With apple learning bad, Xiaomi 11 announced no charger
On November 26, Lei Jun, founder, chairman and CEO of Xiaomi, suddenly said on his microblog, "Xiaomi 11, go to battle light. In response to the call of science and technology and environmental protection, the charger is cancelled in the packaging box. I hope to get your support. " Red Star capital Bureau noted that after the release of the iPhone 12 series, a large number of netizens complained about the lack of chargers and headphones. At that time, Xiaomi publicly joked that a mobile phone without a
charger
was a nightmare, and said that Xiaomi would continue to provide chargers and headphones.
Xiaomi 11 announced the cancellation of the speed of light "face slapping" behavior of the attached
charger
, which was also criticized by a large number of netizens. "I didn't expect Lei Jun to" learn bad "from Apple!"
Xiaomi 11 cancels the attached
charger
:
Respond to the call of science, technology and environmental protection
On the morning of December 26, Lei Jun, founder, chairman and CEO of Xiaomi, said on Weibo that he would announce a major decision on Xiaomi 11. Because there is only
charger
in the box in the picture, some netizens speculated: "is it not to send charger?"
Previously, a digital blogger @ digital chat station revealed that the packaging box of Xiaomi 11, which is as light as the iPhone 12, may not come with a
charger.
Subsequently, Xiaomi announced that Xiaomi 11 would cancel the accompanying charger, and said it was in response to the call of science and technology and environmental protection.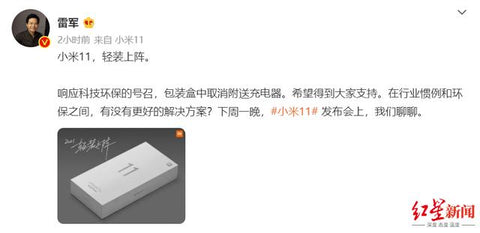 Xiaomi explained the cancellation of the attached charger in the official micro blog, saying: today, everyone has a lot of idle
chargers
. It's a problem for you and a burden for the environment. We know that this decision may not be understood or even make complaints about it. Is there a better solution between industry practices and environment? And said it would give a detailed explanation at the press conference next Monday.
According to the previous official notice of Xiaomi, Xiaomi 11 will be released on December 28, positioning as a new high-end work.
In terms of screen, Xiaomi 11 is equipped with the most top screen in the history of Xiaomi mobile phone, launching a new generation of gorilla glass. In terms of configuration, it is equipped with snapdragon 888 chip announced by Qualcomm this month, with 12gb memory and running Android 11.
Used to tease apple
Mobile phone without
charger
is a nightmare
Make complaints about the iPhone 12 series, because they are not being sent to the charger and headset.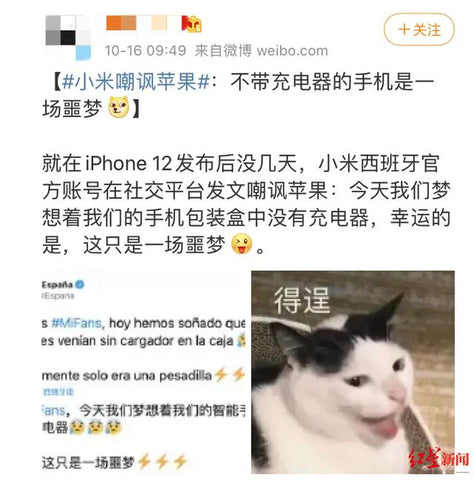 In response, Apple's vice president of product line marketing said that the reason for not sending
chargers
and earphones is environmental protection, because many users already have many earphones and power adapters in their homes, so users no longer need to give them away.
According to Apple's official website, the price of 5W
charger
is 145 yuan, that of 20W fast charger is 149 yuan, and that of the cheapest headset is 1246 yuan. Therefore, most netizens believe that Apple does not give away headphones and chargers, just to increase profits, not for environmental protection.
Hongxing capital Bureau noted that in October this year, Xiaomi made fun of the fact that the iPhone 12 didn't send chargers and headphones on an overseas account, saying that a mobile phone without a charger was a nightmare. In addition, according to documents recently published on the Internet, Samsung will follow Apple's example, with no power adapter or headset attached to the three devices in its upcoming Galaxy S21 series.
iPhone 12 charger port
The share price of Xiaomi is nearly double the issue price
Lei Jun's bold words or realization
Though make complaints about millet 11 being unworthy of charger, the price of millet has been obvious to people all along.
Since the issuance on December 2, Xiaomi group-w (01810) has increased by 30%. On December 24, it hit HK $32.85, with a market value of more than HK $800 billion. It is worth mentioning that Lei Jun made bold suggestions on the day of Xiaomi group's listing to double the share price of investors who bought on the first day of listing. The share price of Xiaomi is infinitely close to doubling the issue price of HK $17. Industry analysis believes that the continuous rise of Xiaomi's share price is related to the company's strong performance this year.
iPhone 12 charger port
In November, Xiaomi group announced its performance in the third quarter of 2020. Revenue reached 72.2 billion yuan, up 34.5% year on year; The adjusted net profit was 4.1 billion yuan, up 18.9% year on year. Xiaomi's overall performance far exceeded market expectations.
During the reporting period, smartphone, as the core business, bucked the trend and returned to the third place in the world, with a market share of 13.1%. In Europe, especially in Western Europe, the substantial growth of mobile phone sales contributed to most of the growth of this quarter's performance. During the reporting period, Xiaomi's smartphone revenue reached 47.6 billion yuan, up 47.5% year on year; The shipment of smart phones was 46.6 million, up 45.3% year on year. Both revenue and shipment volume reached a record high in a single quarter.
Industry analysts say that with Huawei hit hard, other domestic brands represented by Xiaomi have more opportunities to go up and out.
iPhone Adapter
On December 2, Xiaomi announced the largest fixed increase placement in the history of the Hong Kong stock exchange. Industrial securities also pointed out in the research report that the main goal of the company's fund-raising is to grasp the window opportunities of 5g replacement cycle, Huawei's weakness and glory's not yet restored supply. The first is to improve the production capacity of high-end mobile phones and the shipment scale of Xiaomi smart factory, so as to avoid the shortage of 10 meters; The second is to accelerate the penetration of Xiaomi home at county level in China and strengthen offline channel resources.