Which brand of fast charging Gan charger do you recommend?
Before I start the text, I will do a simple science popularization.
What is gallium nitride?
Gallium nitride (GAN), the third generation semiconductor, is a kind of semiconductor with large band gap, which belongs to the wide band gap semiconductor. Gallium nitride is an excellent material for microwave power transistors. It is a new type of semiconductor material for the development of microelectronic devices and optoelectronic devices. It has wide direct band gap, strong atomic bond, high thermal conductivity, good chemical stability (almost not corroded by any acid) and strong radiation resistance.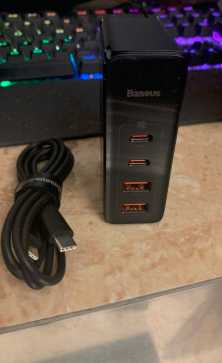 Now many brands of fast charging chargers are designed with Gan power devices. In the case of the same size, the output power of Gan charger is increased by three times, which can achieve the performance far beyond that of traditional chargers.
What are the features of Gan chargers?
Fast charging is an obvious feature of Gan charger.
Another feature is that Gan chargers support multiple interfaces.
At present, there are many brands of Gan chargers on the market, such as Xiaomi, Anke, Beisi and tigc, which are very good, but I'd like to talk about the feeling of using one of my own!
Beisi gan2 Pro Gan fast charging charger
Why would I recommend this charger? Let's give a brief introduction first.
First of all, it supports multiple interfaces, which is one of the most important reasons why I bought it. It provides four interfaces, dual type-C port and dual USB port, which can meet the daily charging needs of mobile phones, tablets, laptops and so on. There is no need to worry about the wrong data cable and charger interface.
The dual type-C port supports 100W PD fast charging and supports pd3.0/pd2.0 and PPS / qc4 + fast charging protocols. The dual USB port supports 60W fast charging and qc3.0/qc2.0/scp; FCP/AFC; Apple2.4/bc1.2/pe + multiple fast charging protocols.
It has good compatibility and supports the fast charging of most mainstream models on the market, such as Huawei, Xiaomi, Samsung and so on. Different charging interfaces combine different charging schemes according to the demand.
It's small and portable. It's blessed with Gan black technology. It feels smaller than the original charger of my apple 61W MacBook Pro notebook. ninety ° Foldable pin design is very user-friendly, go out into the bag can go, also does not take up much space.
It's not the first time that I've been shopping in beisijia. It's a domestic brand. Their products have won my heart in all aspects. On the whole, this Gan charger is very good and cost-effective. It's delicate and compact in appearance and feels good. It's lighter than ordinary chargers. It's exquisite in workmanship. Some details are handled very well. I bought it when I was doing activities. It's much cheaper than the original price.
I don't feel that there is any burning problem when I support the fast charging of four people at the same time. Even if there is, it should be within the acceptable range. The charging speed is absolute. It's up to gallium nitride. I feel that the mobile phone will be fully charged in a short time. After going out, you only need to bring one. All the equipment can be recharged. It's really convenient.
Bess, the king of fast charging Gan charger field! Especially the following one is worth recommending:
Bess Gan 65W multi port Mini fast charger
Suitable models: iPhone 8 and above, new iPad and MacBook, Huawei, Samsung, Meizu, Xiaomi, etc
This charging head adopts the latest Gan (Chinese name gallium nitride, is a new type of semiconductor material) technology, which can improve the heat dissipation performance and charging efficiency on the premise of small size and light weight. Gan fast charging technology can increase the charging speed five times while maintaining the same shell size as the old charger.
With 65W maximum output power, it can provide USB PD fast charging for tablet computers and laptops; At the same time, it is a three output interface design, with two usb-c interfaces and one usb-a interface (it can charge three devices at the same time (fast charging + 5V + 5V), or two devices shake hands at the same time, fast charging does not affect each other (fast charging + fast charging)).