Third party charger sales surge or security risks after mobile phone "configuration reduction"
From October 2020, mobile phone manufacturers led by Apple will cancel the complimentary charger when selling new models, and some old models will also cancel the charger after changing the packaging. At the same time, some other mobile phone manufacturers also follow up in time, and adopt different strategies of "reducing charger".
Samsung subsequently released the S21 series models with chargers as options.
Meizu 18 series doesn't distribute charging heads randomly, but you can send your idle chargers to Meizu manufacturers, and then Meizu manufacturers send out new charging adapters. This activity is similar to exchanging old ones for new ones.
Xiaomi 11 Youth Edition Set edition, charger is packaged separately, photo by Ou Yunhai, China Economic Daily
There are two versions of Xiaomi 11 youth mobile phone on sale by Xiaomi company. The Standard Version cancels the charger, but if you need a charger, you can choose the package version at the time of purchase. You can get the original charger at the same price as the standard version.
Huawei also recently launched a new version of mobile phone without charger and data line, with the price reduced by 200 yuan.
Why no more chargers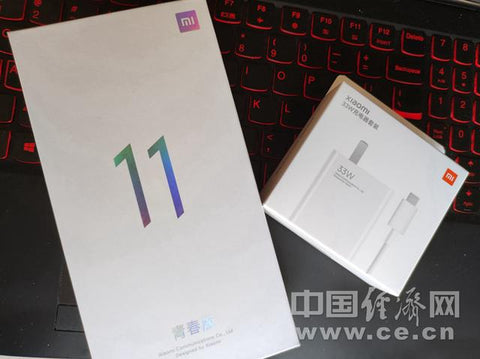 Economic Daily - China Economic Net "life observation +" found that most of these mobile phone manufacturers "reduced" chargers in the name of environmental protection.
Apple's iPhone 12 series no longer comes with earphones and chargers. The official reasons are as follows: first, reduce the use of raw materials in production and allow the use of smaller retail packaging boxes, which will reduce carbon emissions by more than 2 million tons per year, that is, play an environmental role; Second, apple said that there are 700 million lightning earphones and 2 billion Apple power adapters in the world, which means that now that you have ready-made accessories, you don't need to get any more free.
"For the sake of environmental protection, we have been considering that millet devices do not have chargers," Xiaomi Lei Jun also said on the microblog. If you need to buy another, pack and buy a special charger, you can pay a special price of 9.9 yuan. "" In response to the call of science and technology and environmental protection, the attached charger is cancelled in the packaging box. I hope you can get support. "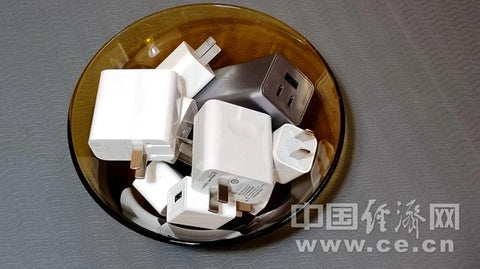 Whether the current price section is suitable for the full "reduced" charger
"Less distribution" mobile phone charger, environmental protection is certainly a reason, in addition to the package products sold separately will be more profitable.
Taking millet charger as an example, it is found from the official mall of Xiaomi that the selling price of a small meter charger varies from 29.9 yuan to 499 yuan, which provides more choices for different users.
But is the overall "reduced" charger suitable at this stage?
Careful netizens may find that the chargers produced by various mobile phone manufacturers are not only of different power, but also support a large difference in fast charging protocols, such as common PD protocol, qc3.0 protocol, qc4.0 protocol, Samsung AFC protocol, vooc protocol of oppo, Huawei FCP, SCP agreement, etc. In addition, the mobile phone charging head has the high-voltage charging and the low-voltage charging.
The fast charging protocol produced by different brands is not very compatible, and even the charging protocol supported by the same brand mobile phone is not the same.
For example, the same brand of new mobile phone is recommended to use 66W fast charger, but the original old charger in hand only 33W can not achieve the best charging effect.
If the mobile phone and charger fast charging protocol do not match, even if the fast charging is used, it is still a slow charging effect.
USB Standardization Organization launched PD charging protocol, hoping to unify charging standards, but various manufacturers have not followed up a lot for various reasons.
Third party charger sales increased greatly
Due to different charging agreements, the interchangeability of original charger provided by brand mobile phone manufacturers and other brands of mobile phones is not good. It is difficult to unify the charger standard at present, but it also provides opportunities for third-party manufacturers. With the authorization of the fast charging protocol, many third-party charger manufacturers have developed a universal fast charger suitable for different brands of mobile phones.
The monthly sales of a brand of mobile phone charger on a shopping website has reached 100000 + or more, and more than 10000 charging heads are everywhere.
According to the industry estimates, it is estimated that the overall market size of cable charger will reach 100 billion yuan in 2022.
Is it safe to use a third-party charger
Since the mobile phone manufacturers began to reduce the charger, there are also some accidents on the Internet about "if the mobile phone (not sending the charger) occurs when charging with a third-party charger, such as explosion, cell phone damage and other accidents, consumers if they protect their rights?" The discussion of this issue. Participants also made different voices:
"It's not related to the mobile phone factory. It's personal. Tell the charger manufacturer."
"We need to contact the third-party charger manufacturer and mobile phone manufacturer to identify which link there is a problem and then determine the object of rights protection."
"Of course, it is the manufacturer of mobile phone. Because you don't provide charger, the user does not have a special charger, and uses any other brand charger. The problem is that the mobile phone manufacturer is responsible for the problem."
……
At present, charger has no technical threshold. As long as charging specifications and charging protocols match with mobile phones and guarantee the quality, any charger is the same.
But the idea that consumers have been instilled is the best original charger. All major mobile phone manufacturers and consumer warning departments also recommend using original chargers. In addition, there are some cases of cell phone battery explosion. Most of the responses of mobile phone manufacturers are that they do not use original chargers.
"Life observation +" suggest that if consumers choose a third-party charger, please go to the regular store or website to purchase and recognize CCC logo to avoid safety problems.
"Reduced distribution" charger is the trend
The Brazilian consumer rights and interests regulator imposed a fine of $1.9 million, or 12.36 million yuan, on apple, for the iPhone 12 sold in Brazil without a charger, according to reports. Because Apple's mobile phones in Brazil do not provide a matching charger, nor do they cost less in the price.
Several domestic mobile phone manufacturers do better, using the way of optional, old for new or direct price reduction to deal with "reduced distribution" chargers, consumers also like it.
Whether it is more environmental protection, increased corporate income or some other reasons, the "reduced distribution" charger is the trend of the general trend. Just like the 2006 China Ministry of information industry (the Ministry of industry and information technology) issued the standard, unified mobile phone charger interface.
If the mobile phone manufacturer wants to "reduce" or become an option, the precondition is that the charging agreement of each mobile phone manufacturer is unified, so that the mobile phone charger can be made unnecessary accessories( Eurhyan)
About "life observation +"
Life observation + is a speech column focusing on the hot spot of life consumption launched by China economic network. The purpose of this paper is to make a thorough observation, analysis and interpretation of hot spots in clothing, food, living and traveling, aiming to guide the public to form a positive and healthy concept of life and consumption.