Tens of Yuan wireless charging bracket is on the market, which makes MagSafe second variable magnetic vertical wireless charging
Apple MagSafe magnetic suction charger brings another way of charging, but it is limited by the horizontal design. When charging, the screen of the mobile phone is vertical 90 degrees to the ceiling, so it is not very friendly for users to operate the mobile phone to return messages or watch videos. So smart manufacturers have launched vertical wireless charging bracket, let apple MagSafe magnetic suction charger second vertical
wireless charging.
The appearance of the
wireless charger
bracket is very simple. The main structure made of aluminum alloy is matched with the white silica gel anti-skid pad. The overall style is consistent with that of MagSafe charger. After the mobile phone is put on, it is automatically positioned by magnetic force and absorbed in the middle, forming a suspended Perspective effect. Although it is cheap, it does not look cheap.
The structure of MagSafe charger bracket can be seen from the side of the product. An aluminum alloy is bent into an L-shape, and the surface is equipped with a plastic frame to fix the MagSafe magnetic absorption charger. The heat of the wireless charger can be transferred to the aluminum alloy bracket to speed up the heat dissipation, better maintain the high-efficiency charging and protect the charger.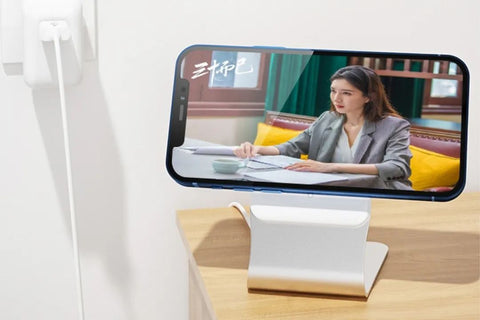 After using the bracket, the MagSafe magnetic wireless charger becomes a vertical
wireless charger.
Compared with the original horizontal wireless charger, the vertical
wireless charger
has unique advantages. The mobile phone screen faces the human eye and does not bow down. It is more convenient to brush short video and operate wechat to return information. It keeps the same full blood state while brushing and charging.
Don't look less at this aluminum alloy bracket. It turns the MagSafe magnetic absorption charger, which originally belongs to horizontal wireless charging, into vertical wireless charging. It can also rotate the horizontal screen to absorb and watch the artifact in seconds.
The middle of the aluminum base is perforated, and the cable of MagSafe magnetic charger is led out from the back along the opening. No cable can be seen from the front, which makes the desktop more neat and beautiful. The tray height of the
wireless charging
stand is 120mm, the width is 75mm, the base length is 110mm, and the width is 105mm. Because of the principle of directly embedded in the original MagSafe magnetic absorption
wireless charging
part of apple, there is no need to worry about the performance and compatibility. It is suitable for the full range of iPhone 12 phones. Finally, let's talk about the price. The price of this
wireless charging
stand is only tens of yuan, which improves the practicability of MagSafe magnetic absorption wireless charging. Interested partners can pay attention to it.