Small tour: share charger, participate in the small venture project that can earn money
Mobile phones are indispensable for people nowadays. Heavy mobile phones make users charge several times a day. Many people put down their mobile phones only when their eyes are closed. When they want to use their mobile phones, have you ever experienced the feeling that they dare not play with their mobile phones when their power is insufficient? Have you ever felt the disappointment of turning off your mobile phone when it's half connected? Have you ever experienced the embarrassment of turning off your mobile phone when you are ready to pay? Looking at the original full power slowly bottomed out, however, there was no place to charge, let alone a suitable charging line,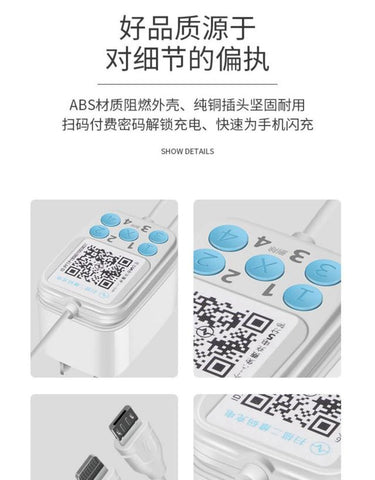 Are you in a hurry?
We all know your mind. Therefore, Xiaoxun shared charging line takes advantage of the opportunity to give you full power.
Manager Ning: 13640932792
Mini tour sharing charger
Facing hundreds of millions of shared charging market, Xiaoxun shared charger provides users with full scene mobile shared charging equipment and high-quality shared charging solutions to meet the needs of users in different scenarios Convenient, low cost of the actual charging needs, the most important thing is that the small patrol shared charging cable can be used to charge, free of charge to enjoy 5 minutes of emergency charging, input 6 2, in the case of no power off the mobile phone, can first charge for 5 minutes, and then pay the package rental fee, you can inherit the charging, plug and play, pull the line to return
One cable with three ports, matching different models to meet your different needs.
Product advantages:
1. Scan code to use, high efficiency and fast charging
One key scan code, instant charging, charger direct charging, efficient and fast.
2. One pull three charge, compatible with a variety of models
The charger comes with a three USB interface, which is widely compatible with various types of digital devices.
3. Independent system to enhance experience
There are three independent systems of users, merchants and partners to meet the needs of different customer groups.
4. 5 minutes emergency charging
Scan code with one key, charge immediately, high efficiency and fast.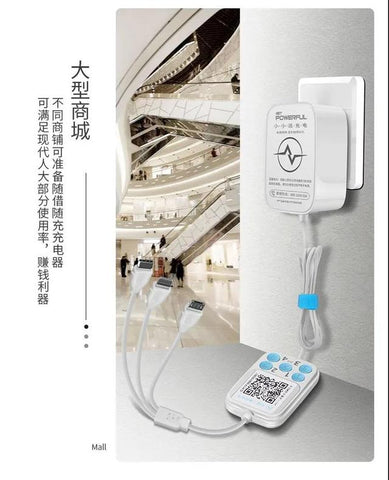 5. Less loss, more durable
Compared with the power bank, the charger does not contain batteries, so it has less loss and is more durable.
6. 3C certification, quality assurance
The products have passed 3C certification and ISO certification, and are underwritten by Pacific Insurance, with the insured amount of 1 million yuan.
Independent system:
In order to facilitate the users, agents and merchants to check, we have developed their own independent systems, which can check the equipment borrowing and returning situation anytime and anywhere, and settle the major commission payments in real time
Shared scenarios:
A good product is widely used, small patrol shared charging line is suitable for many scenes, airport, high-speed rail, passenger station, restaurants, shopping malls, beauty shops, bars, hotels, KTV, Internet cafes... All share, let you use and have.