Semihow superjunction MOS bulk shipment: excellent performance, entering Samsung supply chain
Recently, the
charging head
network disassembled a Samsung mobile phone original 25W PD fast
charging charger
. As an inbox fast charging power accessory for several flagship models such as note 10 and S10, the official has very strict requirements on all aspects of charger performance, and the materials and workmanship of the products are at the first-class level in the industry. The latest 750V super junction NMOS from semihow semiconductor has been highly recognized by Samsung with its excellent performance, and has made its debut in this product, becoming the core supply chain of Samsung mobile phone original fast
charging
accessories.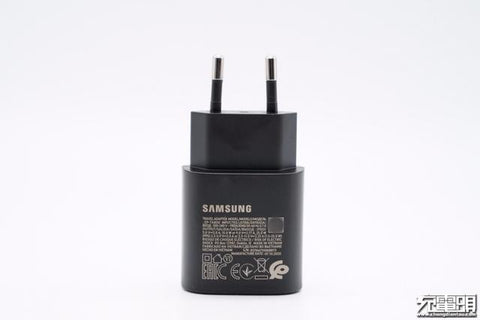 The Samsung 25W PD fast
charging charger
disassembled this time is the European Standard Version, and the product model is ep-ta800, which is manufactured by the Vietnam foundry. The
charger
supports 100-240V ~ 50 / 60Hz 0.7A input and 5v3a, 9v2.77a, 3.3-5.9v3a and 3.3-11v2.25a output. And has obtained CE, EAC, Morocco CP a variety of safety certification and VI level energy efficiency certification.
Apple Charger Cable
After disassembly, it is found that the internal devices of Samsung original 25W PD fast
charging charger
are arranged orderly, with a harmonious aesthetic feeling. The front of PCB board is mainly transformer, electrolytic capacitor, fuse and other devices. The insulation board is used between the high-voltage side and the low-voltage side, and there is glue injection treatment between the components; The back of PCB board is mainly chip components. The design of hollow out and insulating board is adopted between high voltage and low voltage. The 750V super junction NMOS of semihow semiconductor is very prominent. The product model is hcd70r600.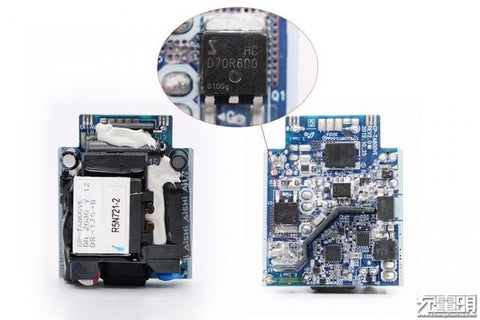 It is understood that hcd70r600 superjunction MOS comes from semihow semiconductor and Samsung Semiconductor to develop a high voltage superjunction process platform with a conductance of 0.6 Ω。 The product adopts multilayer epitaxial technology, especially in fast
charging
and PD applications; Built in ESD diode, good antistatic ability; At the same time, it has the global excellent wafer production quality control system support, and is manufactured in the same wafer factory with apple and Qualcomm's high-end IC.
Semihow semiconductor hcd70r600 specifications.
On semihow semiconductor
Semihow is a Korean semiconductor company founded in 2002, which is dedicated to the R & D, design and manufacture of power device semiconductor products. The company's top management and R & D team are all from Samsung, with headquarters in Fuchuan, South Korea, and offices in Shenzhen (headquarters in China), Wuxi, Jiangsu, Taipei, Taiwan and India.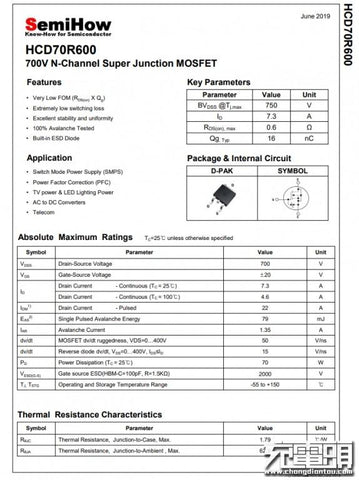 The largest customer of semihow semiconductor is Samsung. It has cooperated with Samsung charger manufacturers (Dongyuan, afte, Toyo E & P, solu-m, selcom and Guande) for more than 15 years. It is the main supplier of mass-produced Samsung
chargers
. In 2017, semihow began to cooperate with Samsung Semiconductor to develop high-voltage superjunction technology platform. At present, it basically covers 600V ~ 900v high-voltage superjunction MOS commonly used models, and currently ensures the production capacity of 50000 pieces / month.
In addition, the semihow low voltage normal trench and Sgt process platform have also been debugged, and more synchronous rectifier low voltage MOS products will be available in the first half of 2021. In 2020, Q2 started the research and development of IGBT products. It plans to develop IGBT products on the wafer manufacturing platform of Samsung Semiconductor, and is currently debugging the process (FS).