Samsung next generation charger ep-ta865 exposure, 65W fast charging
Samsung mobile phone's mobile phone development process is repeated and jumps. From 45W supporting fast charging mobile phone to 25W charger, S20 Ultra supports 45W to quickly charge Note20 Ultra, but cut off 45W fast charging to make complaints about genuine and fake flagship. On September 28, the galaxy Club Community in South Korea leaked the information about Samsung's next-generation charger. The ep-ta865 charger has a 65W high-power output, which means that Samsung's fast charging power will continue to improve in the future, making many fans feel relieved.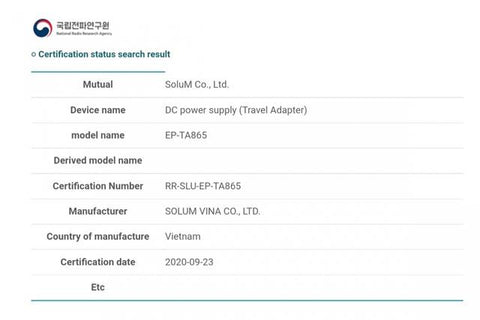 The Samsung charger model revealed is ep-ta865. According to the last two digits of the model, the maximum output power of the charger is 65W. Previously, the highest output power of Samsung charger is 45W ep-ta845. The launch of ep-ta865 is undoubtedly another upgrade of Samsung's fast charging system.

Previously, Samsung's flagship brands such as note10 + and s20u all supported up to 45W fast charging, but the mobile phone was equipped with a 25W charger, ep-ta800. From the performance parameters, it supports two fixed voltage outputs of 5v3a / 9v2.77a, with two PPS voltage sets of 3.3-5.9v3a / 3.3-11v2.25a.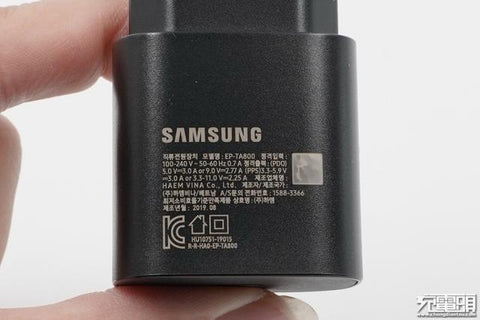 In order to get a better fast charging experience, users need to buy Samsung 45W charger ep-ta845 at their own expense, which supports four fixed voltages of 5v3a / 9v3a / 15v3a / 20v2.25a, with three PPS voltage sets of 3.3-11v4.05a/3.3-16v2.8a/3.3-21v2.1a. Compared with 25W model, 45W phase has higher power, 15V and 20V voltage range, which can provide high voltage PD fast charging for tablet and notebook. In addition, PPS set contains a wider range and a larger current, which can better provide 45W fast charging for Samsung devices that rely on high current PPS protocol.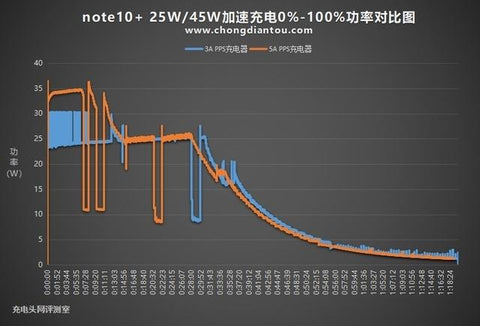 The charging head network has compared and tested the charging speed difference between Samsung 25W charger and Samsung 45W charger for note10 +. According to the collected data, although there is no obvious difference in the overall charging time, the maximum charging power of 45W charger can reach as high as 37W in the 10 minute fragmentation charging stage, with the charging percentage of 29%, while that of 25W charger is 24%, 45W has a certain speed advantage in the aspect of fragmentation charging. I believe that the equipment performance of 65W charger will be improved.

It can be seen from the leaked Samsung ep-ta865 charger that the ceiling of Samsung's fast charging system has been upgraded from 45W to 65W, and its performance has reached the mainstream echelon level in 2020, with a better fragmented charging experience. In addition, 65W can also be used with high-power devices such as laptops. At present, we don't know what model the charger is suitable for. We have follow-up news, and Xiaobian will continue to follow up.