Ruiheng launched 65W and 100W Gan PD chargers, which were certified by many countries
This year, Apple's iPhone 12 series mobile phones continue to sell well after sales, but its "environmental protection" move of not configuring
charging head
greatly promotes the development of type-C PD fast
charging
peripheral accessories, and makes the demand for chargers rise rapidly. Ruiheng is very optimistic about the charger market trend and has invested a lot of R & D resources. In addition to a series of type-C pd20w chargers, Ruiheng has also launched a series of Gan 65W and 100W chargers. The 65W 1C, 1c1a, 2c1a and 100W Gan PD chargers have been successfully mass produced and shipped. While supporting pd3.0 and PPS protocols, it is also compatible with pd2.0, PPS, apple2.4a, qc2.0, qc3.0, qc4.0, AFC, SCP, FCP, PE and bc1.2.
The existing IC components of Gan
charger
are all famous brands at home and abroad, among which the Gan adopts innoseco
Inn650d02, the IC frequency can be high or low, and the delivery time is short (2-3 weeks). Although it started late, its business model, IDM process, product coverage, unit price, capacity layout and other core aspects have great advantages compared with peers.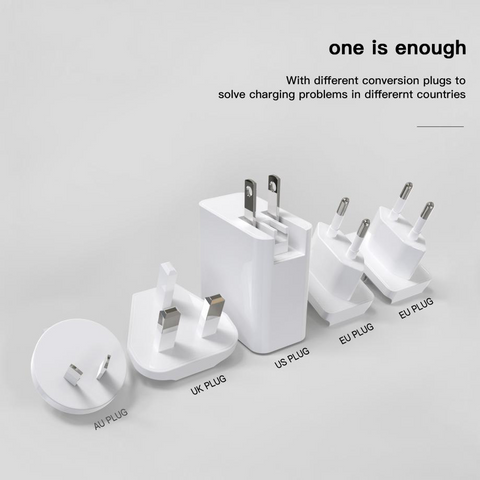 Ruiheng's latest 65W, 100W Gan PD
charger
has obtained CCC, CE, CB, FCC, ETL, PSE, KC, UL, SAA and other Multi Country certification. At the same time, it can configure multi specification conversion pins according to the international market operated by customers, such as European, British, Australian, Korean, American and so on. And accept OEM / ODM custom service.
iPhone Adapter
Ruiheng's latest Gan series output voltage is applicable to global voltage, supporting a wide voltage range of 100-240V ~ 50 / 60Hz. It has the advantages of high reliability and long service life, and can achieve an MTBF of 50000 hours under 25 ℃;
In addition, it also has OCP, OVP, OTP short-circuit protection and fast self recovery function; For the material of the shell, Ruiheng adopts environment-friendly flame retardant 94v0 PC material, and each product will undergo 100% aging test in the aging room for 2 hours before leaving the factory; At the same time, Ruiheng in order to ensure the quality of products, will give each product one by one through the withstand voltage test.
iPhone Adapter
Gan 65W single port can support fast charging of mobile devices such as mobile phones, tablets and laptops. Gan 65W multi port series and Gan 100W series can support fast charging of mobile devices such as mobile phones, tablets and laptops at the same time; Gallium nitride charger greatly shortens the charging time of the device and provides users with better charging experience.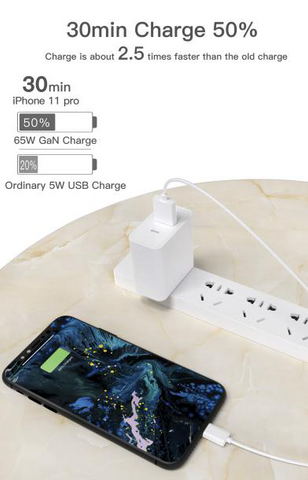 For customers on business or travel, Gan
chargers
are also the best choice. The Gan
charger
has the advantages of small size and light weight, especially the folding plug is used by ryheng in the Gan series, which does not occupy additional space and is convenient for carrying and traveling; Charging speed is faster, a GaN charger can replace the original 2-3 ordinary chargers. Out of the loop slogan: a GaN charger, all over the world are not afraid!
Dongguan Ruiheng Electronic Technology Co., Ltd. has always adhered to the brand concept of "let customers feel noble", and adhere to the attitude of providing the best products and best services for customers to cooperate with you. Besides, Ruiheng always regards customer satisfaction as their pursuit! As a saying goes, "a single silk does not form a line, a single tree does not become a forest." Ruiheng sincerely invites the majority of customers, and all-round cooperation with you to create win-win results!