Oppo 50W super flash charger will be on sale tomorrow to promote the popularization of planar transformer
[big bit guide] on December 12, oppo 50W super flash
charger
will be on sale, which is expected to further promote the popularization of planar transformers.
Oppo announced at a conference last month that it will launch a 50W biscuit
charger
, which is scheduled to be available tomorrow (December 12).
iPhone Charger Adapter
The 50W super flash biscuit charger adopts the new charging technology of pulse charging. The 50W super flash biscuit
charger
has introduced gallium nitride high-frequency switch to reduce the single energy storage demand of the transformer, thus reducing the volume of the transformer, officials said.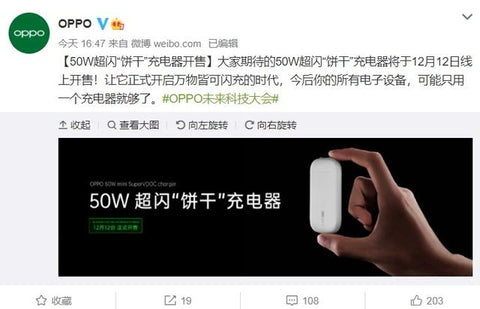 As the third generation semiconductor technology, GaN has been widely used in fast charging
charger
products. At the beginning of this year, 30 manufacturers launched 66 Gan fast charging
chargers
on ces2020. Due to the introduction of GaN high frequency switch, the size of the transformer is smaller, and more smaller planar transformers are applied to the fast charging charger.
iPhone Adapter
Planar transformer has many advantages, which are being explored slowly. According to the analysis of industry insiders, from the electrical point of view, planar transformer is composed of a small number of components and a minimum of windings. This kind of module is especially suitable for automatic assembly. Planar transformer is basically manufactured in a fully automatic way. The consistency between different devices is very good, and it has advantages in solving the electromagnetic compatibility problem.
iPhone Charger Adapter
It is reported that at present, the main domestic companies exploring and developing the application terminal of planar transformer are shunluo electronics, Mingpu optical magnetic, maijie technology, fule League, haiguang, Jialong Haijie, Benci electronics, etc.