One plus 50W wireless charger passed WPC wireless charging alliance Qi certification
Oneplus 9 Pro has confirmed that it will support 50W
wireless charging
and 65W warp charge wired charging. Now, the full name of oneplus warp charge 50W
wireless charger
has appeared on WPC, the model is c302a. The list also includes a rendering of the charger with the oneplus logo, which looks similar to the previous 30W
wireless charger.
Yijia has revealed that the new wireless charging solution will make up the gap between wireless and wired charging. The 50W
wireless charger
claims to charge the oneplus 9 Pro battery from 1% to 100% in 43 minutes. It achieves this goal by charging the mobile phone's dual cell battery with 25W output power.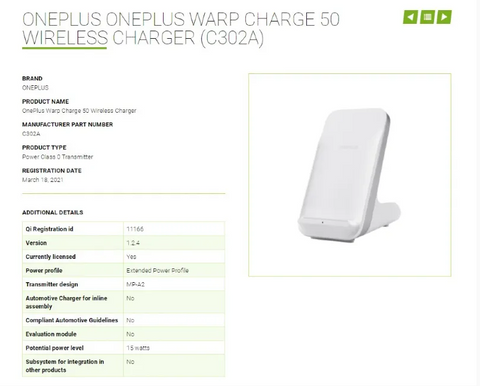 Oneplus 9 Pro will use custom battery cells to generate less heat when charging. The
wireless charger
will be equipped with two coils, one at the top and one at the bottom, allowing users to charge the phone vertically or horizontally. In addition, it supports detachable cables.
As for the warp charge 65t wired charging solution, the flagship will use a dual battery charging solution similar to the oneplus 8t, with 32.5w per battery but less heat. This also gives the oneplus 9 series a higher charging output, which takes only 29 minutes to fully charge.
Oneplus 9 and oneplus 9 Pro have confirmed that they will carry the Qualcomm snapdragon 888 chipset. The pro model will be equipped with QHD + ltpo screen with intelligent refresh rate of 120Hz and brightness of 1300 nits. The phone will be equipped with Hasu brand cameras. The oneplus 9 series launch will be held at 14:00 on March 24, when the oneplus watch smart watch will be announced.