Necessary for home and business: ares 100W Gan charger
The new year is coming, the bull is coming! Today, let's share a speed lead closely related to our life - "ares" 100W fast charging head.
Mobile phones, laptops, tablets, smart watches, Bluetooth headsets and many other electrical devices coexist. Good battery life and fast charging must be effectively guaranteed, so fast charging devices will become a rigid need among the rigid needs.
100W fast charging head is rare on the market, let's take a look at its practicability!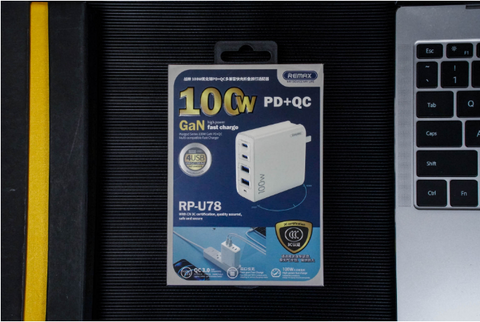 The color mosaic is more harmonious. At a glance, it looks full of content. The gold font emphasizes its important feature - 100W Gan charging head. It is recommended that PD and QC protocols have better generality.
100W power, it seems that we can also discard the charging head at home. One machine in hand, all charging problems can be easily solved.
3C certification, through the national compulsory certification, environmental protection PC shell, flame retardant and fireproof. ninety ° The folding hidden plug is very convenient to store.
This charging head is equipped with 2C + 2A four port configuration, four ports can be applied at the same time, and the integrated performance is quite powerful. Go out as long as you carry it, you can do most of the need to charge the device.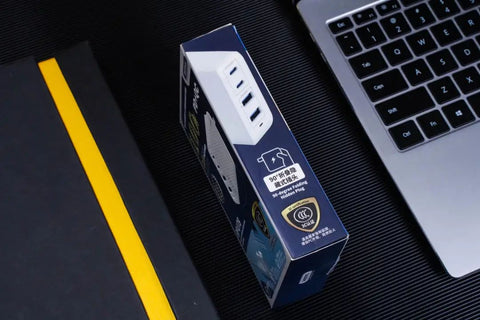 The product parameters on the back of the package are dense, fully displayed, and the product is transparent, which is based on the manufacturer's strong confidence in the product.
The corners are designed with slightly sinking chamfering. The handle is between angular and smooth. This kind of feeling is more wonderful.
With the development of technology, from the beginning of 30W, 45W to 65W, 100W, the fast charging protocol has been continuously launched. It can also be said that the manufacturers have made unremitting efforts to launch new heights and come into people's sight. If there is no comparison, there will be no harm. Let's see which one is better. It can be said that in order to solve users' troubles, Ruihe technology has launched the Ares 100W gallium nitride PD & QC multi compatible fast charging foldable charger into thousands of households. It can be said that holding 100W fast charging head is absolutely the best partner for you to carry out!
2A + 2C configuration, close observation can find that the blue tongue of the interface is solid.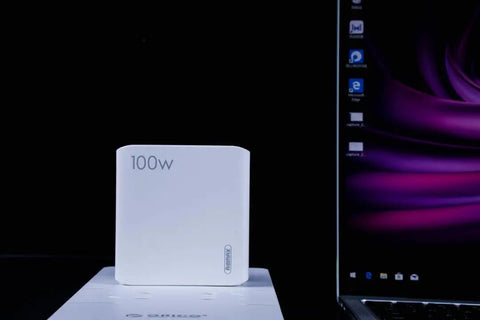 Usb-c1 / C2 single port output; 5v-3a, 9v-3a, 12v-3a, 15v-3a, 20v-5a, up to 100W
Usb-a1-a2 single port output; 4.5v-5a, 5v-4.5a, 9v-3a, 12v-2.5a, 20v-1.5a, maximum 30W
When four ports output at the same time; 30W + 45W + 7.5W + 7.5W (c + C + A + a) maximum 90W
That is to say, if we want to enjoy the highest 100 watt fast charging, we still have to start from typec - of course, typec has become a leader in the charging market. If you don't have a typec typec or typec lightning cable, it's time to start at least one!
REMAX ares 100W Gan charger adopts foldable pins, which is convenient for storage, stable and not easy to loose, high metal brightness, fine and perfect workmanship.
100W huge prompt text is in the column, 100W is also the main direction of this year's charger.
Two usb-a and two type-C interfaces adopt blue tongue. The maximum output power of the interface is marked below. The maximum output power of the type C interface is 100W. There is an indicator light above the interface, which will emit white light when it is powered on.
The length unit of this product is only 70 * 73 * 30MM, and the total weight is only 200g. It is convenient to carry out.
It seems that the thickness of the original charging head of Huawei notebook is no different, just a little thicker than a dollar coin. The only difference is that it has more charging devices than the normal charger.
Gallium nitride has been proved to be a very safe and reliable new fast charging material technology in 2020, which is 4 times faster than the standard charger, and the number of 100W is very satisfactory.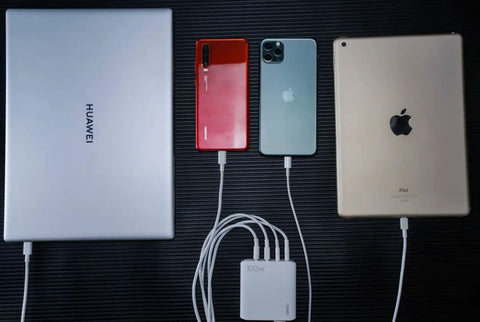 Ares 100W has four cores, which can charge four ports at the same time. Gan black technology is small and easy to carry. It doesn't choose equipment, and can flash charge quickly. Single port 100W output is universal for notebook phones.
Powerz km001c comes on the stage, and the typec port supports bc1.2, apple 2.4a, Samsung AFC, Huawei FCP / SCP, qc3.0 and other table display protocols, as well as the main promoted PD protocol, which basically covers the mainstream fast charging protocols in the market.
Huawei P30 tests the charging performance of type C port on the computer, and can hand over 9v-1.3a-12w charging efficiency data, which is satisfactory.
The daughter-in-law's iPhone 11 Pro Max tests the charging performance of the type C port on the computer, and can hand over 9v-2.5a-23w charging efficiency data. The charging power is a surprise.
The charging performance of the type C port tested on the iPad, with 5v-2.4a-12w charging efficiency data, can fully meet the demand of iPad charging, even if it is used while charging in emergency, it can also be competent.
Charging Huawei's matebook x Pro is also very fast.
The laptop test type C charging performance, 20v-1.2a-26w charging efficiency data, is really OK.
The most important thing is practicality. With the "ares" 100W charging head with one machine and four functions in hand, the charging heads of Huawei mobile phone, apple mobile phone, iPad and notebook that you need to carry every time you go out can be laid off. This not only does not affect the charging of multiple devices, but also greatly saves space, and really makes the charging device more "portable".
In general, "ares" 100W fast charging head, whether it is home, or out to carry, is a very good choice.
I am more satisfied with: 1, four devices can be charged at the same time, convenient, save space. 2. Support the fast charging protocol of most electronic devices on the market, charging speed is fast enough. 3. The workmanship and feel are delicate, so the quality is good. 4. Cost effective. But the drawback is that there is no additional charging cable, which needs to be purchased separately.
Well, that's all for today's sharing.