Meizu 18 series cancels the attached charger to lighten the environment
Today, the official micro blog of Meizu technology announced that the attached charger of Meizu 18 series will be cancelled to lighten the burden of the environment.
One more unnecessary charger will put more pressure on the earth's environmental protection, according to the official microblog. The move is also another company to cancel the attached
charger
after apple, Samsung and Xiaomi.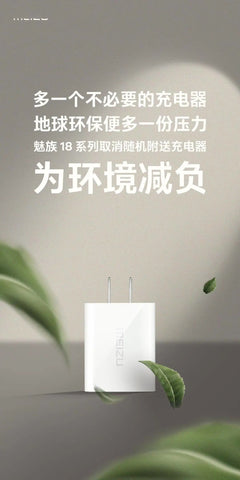 Meizu has previously announced that it will hold a new product launch week in March, including the premiere of Meizu's 18th anniversary documentary "the 18 years" on March 1, the launch of flyme 9 on March 2 and the launch of Meizu's 18 series 5g double flagship on March 3.
According to the previous network access information, Meizu 18 will be equipped with 4000mAh battery, supporting 36W fast
charging
, while Meizu 18 Pro is 4500mAh battery, supporting up to 40W
charging.
Machine manufacturers have cancelled the complimentary
chargers
, and I believe that more manufacturers will join in the future.