Meishun and 30W PD charger are disassembled. This company introduces the most complete and advanced synchronous rectification scheme in the industry
Since its establishment in 2002, Shenzhen meishunhe Electronics Co., Ltd. has been engaged in the production of various chargers, data lines, adapters and other accessories for iPhone / iPad / smartphone for more than ten years. It has rich ODM / OEM experience and provides a full range of services including development, design, customization, production and wholesale. Its products have won the favor and recognition of multinational customers.
Recently, MSH Meishun and a 30W USB PD fast charging charger were obtained from the
charging head
network. This product has multiple groups of fixed voltage gears, supports 30W PD fast charging, and also supports qc2.0 and qc3.0 fast charging protocols, which can well meet the daily needs of mobile phone chargers. Now we will disassemble this product to see how its internal materials are made.
1、 Appearance of meishunhe 30W PD fast
charging charger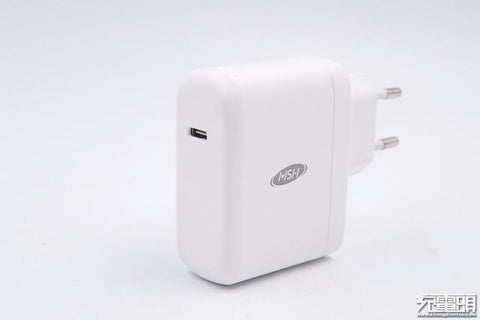 Meishunhe
charger
adopts PC flame retardant material, white shell, frosted surface, anti fingerprint, prismatic protruding block design of input end, which is European Standard Version. The overall design is simple, with MSH brand printed on the fuselage.
The junction of each side of the fuselage is a curved transition, which is round as a whole and feels good.
The other side is printed with the product parameter information model: msh-tr-307 input: 100-240V ~ 50 / 60Hz 0.7A output: 5v3a, 9v3a, 12v2.5a, 15v2a, 20v1.5a. The product has passed CE certification.
The input end adopts fixed European standard pin.
There is a usb-c interface near the top of the output end and a white rubber core.
And apple 30W charger and 61W
charger
size intuitive comparison.
The thickness is the same as the diameter of a dollar coin.
The net weight is about 79g.
The output protocol of usb-c port is detected by using chargerlab power-z fl001s. The display supports apple 2.4a protocol, qc2.0 and qc3.0 fast
charging
protocols. In addition, the PDO message shows that the usb-c port has five groups of fixed voltage gears: 5v3a, 9v3a, 12v2.5a, 15v2a and 20v1.5a.
2、 Disassembly of meishunhe 30W PD fast
charging charger
The shell is disassembled, the shell joint adopts ultrasonic welding process, and the AC wire and pin welding place are glued and insulated.
iPhone 12 charger
At the back of PCB board, the boundary between primary and secondary is obvious, and the secondary has only one synchronous rectifier chip, which has high integration and greatly simplifies the circuit.
The main control chip of PWM is ob2633. The chip is a highly integrated quasi resonant (QR) controller in SOT23-6 package. It has adaptive multi-mode regulation and optimizes the fast charging solution with high performance, low EMI, low standby power consumption and wide output voltage range.
The secondary synchronous rectifier chip is mk1716, which integrates the secondary synchronous rectifier controller and 16m Ω/ 100V synchronous rectifier MOS. Maorui mk171x series is a high performance synchronous rectifier power switch, which integrates N-CHANNEL POWER MOS and is suitable for isolated synchronous rectifier applications. It is especially suitable for high efficiency charger, and compatible with CCM, DCM and QR mode.
Apple Charger Cable
Mk171x adopts self powered circuit with independent intellectual property rights, which can be flexibly placed at the output positive end or output negative end. When placed at the positive end, no additional auxiliary winding is required. It supports 10ns turn off delay and up to 4A pull-down current to help the system work reliably in CCM mode. It supports turn-on and turn off mechanism, which can maximize the turn-on time of external drive MOSFET to obtain the highest efficiency as possible, and independently detect DCM ringing to prevent false turn-on.
It is understood that for the diversified application of PD
chargers
/ adapters, maorui core has launched the industry's most complete and technologically advanced SR series solutions to fully assist usb-pd, USB type-C and other fast charging chargers, multi port plug-in and small volume adapters. Prior to this, maorui took its mk180x / mk171x / mk9173x series of synchronous rectifier products to participate in the 2019 (Autumn) USB PD & type-C Asia exhibition, showing amazing performance. According to the disassembly of charging head network, the 22.5w SCP super fast charging charger of huakelong and the 18W USB PD charger of apple are also used for synchronous rectification of maorui core.
Apple Charger Cable
Summary of dismantling
charging head
net
MSH Meishun's 30W PD fast charging charger is made of PC flame retardant material with smooth edges and smooth surface, which makes it easy to use. The usb-c port has five groups of fixed voltage ranges of 5v3a, 9v3a, 12v2.5a, 15v2a and 20v1.5a, which can meet the charging demand of mobile phones. The secondary of the charger adopts mk1718 synchronous rectifier chip, which has high integration, greatly simplifies the circuit and reduces the cost; In addition, we also use Ambro master chip, huinengtai PD protocol chip, and Shilan micro and core MOS. PCB front components and protocol board and many other fixed glue, good stability. The output is filtered by solid-state capacitor, stable and long life.