MagSafe dual charger experience: experience is good but not perfect
At present, there are two MagSafe
chargers
on Apple's official website, which are single
charger
and dual
charger
. The dual charger can charge Apple watch, iPhone or airpods or other Qi devices at the same time. So if you have a number of Apple devices, the dual charger will be more convenient to use. Of course, its price is relatively expensive, as high as 1049 yuan.
MagSafe Duo: appearance, size and weight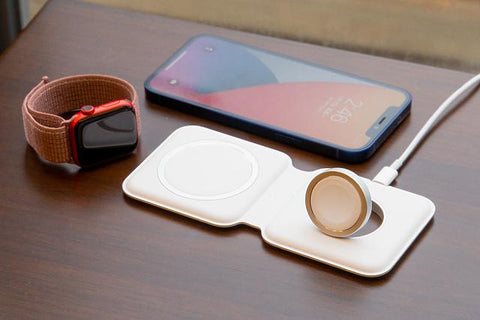 The first feeling when I got the MagSafe duo package was that it was bigger and heavier than I thought. There were not many things in the package, such as the charging board, usb-c to lightning charging cable and the manual, so the weight was the charging board.
The rechargeable version weighs about 130g, which is not light. It's similar to an iPhone 12 Mini.
After folding, MagSafe Duo is still very small, just like the make-up box in a girl's hand, which is easy to store and carry.
The charging board is mainly divided into two parts, one is the MagSafe charging panel, the other is the apple watch magnetic suction charging panel. The apple watch charging port can stand up to adapt to different watch bands, and the maximum angle can reach 90 degrees vertically. If the other side can stand up, there will be a certain improvement in the experience. For example, it will be more convenient to stand up when looking at mobile phones. But in fact, it can't. It may be related to the position of the charging coil!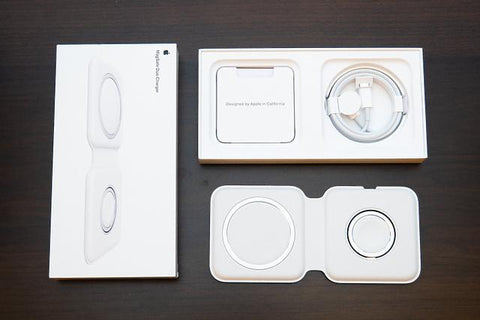 The surface of the charging board is made of silica gel, which is the same as the original silica gel shell of apple. It has a good touch and is quite delicate, but white is easy to be dirty and stained with ash, and it will be obvious when there are traces, so we should protect it well.
The charging interface is lightning, which is not usb-c like the mobile phone. If you go out, don't bring the wrong cable.
MagSafe duo's magnetic force is still very strong. Due to its flat design on the table, it is difficult to lift the mobile phone with one hand. You need to press and hold the charging base, otherwise you will lift the charging base together.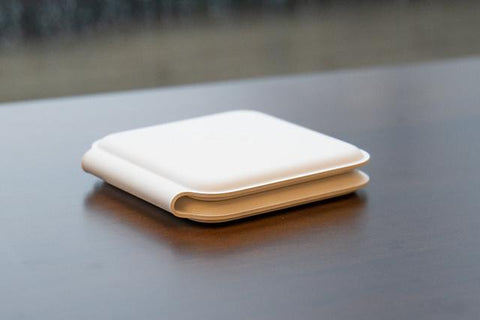 Since the MagSafe duo can be folded, if there is a way to make it stand up, it can do the same!
Charging test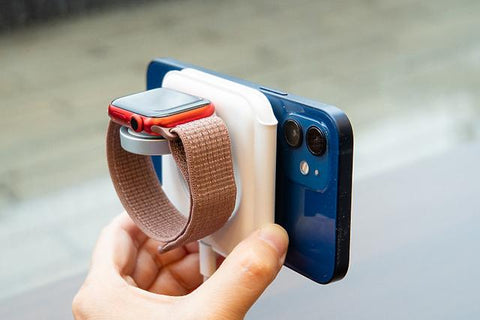 We use iPhone 12 and apple watch 6 to test the charging link, mainly to see the efficiency of single charging iPhone and charging together with apple watch.
The official explanation of charging specifications is as follows. In addition, the interface must be usb-c. usb-a does not support and must be a charger that supports PD protocol
9V / 2.22a power adapter can provide up to 11W power.
9V / 3a and higher power adapter can provide up to 14W power.
If the iPhone 12 Mini is equipped with at least 9V / 2.62a, it can get up to 12W
wireless charging.
A 9V / 3A or higher
charger
can also provide 14W peak power for the iPhone 12.
So in the test link, we directly use the
charger
above 27W to test. The charger is Xiaomi double hole 30W charger. The actual test shows that the charging efficiency of the two before 1 hour is higher than that before 1 hour, and the main difference is in the second half. When the iPhone 12 is charged, it takes about 110 minutes to fully charge; when the iPhone 12 and the watch are charged together, it takes 140 minutes to fully charge the phone, while when the apple watch 6 is charged from 0 to full, it takes 80 minutes. Is that not acceptable?
Demand and choice
In fact, there are many three in one
wireless charging
stations on the market. What's the difference between MagSafe dual
charger
and these multi in one charging stations? What's the advantage?
First of all, Apple's design is very convenient to carry. After folding, it is very small, but after all, it is a charging base. It is a fixed-point product. There are not many scenes to carry it with you.
In addition, there are some differences in power when MagSafe dual
charger
is used to charge iPhone wirelessly. When it is used with usb-pd charger above 27W, it can provide the maximum 14W wireless charging power for iPhone 12 and 12 pro, while the maximum 12W for 12 mini, and the maximum 7.5W for all three-way charging bases.
It seems that MagSafe duo has some advantages in efficiency, but does it mean it is better?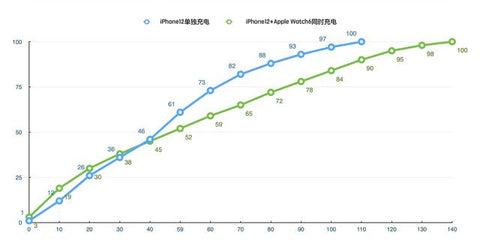 In fact, it depends on the specific use needs. First of all, although the power of the three-party multi in-one charging base is only 7.5W, some products will be more widely used, such as one more usb-a interface, one more lightning interface, etc., which can charge more than two devices at the same time. Because MagSafe duo can only charge iPhone + Apple watch or airpods + Apple watch at the same time, it can't charge three devices at the same time.
In addition, some three-way wireless charging stand can penetrate the protective shell of more than 3 mm, which can charge even with a thick shell, but MagSafe may not be able to charge with a thick shell.
So who would choose MagSafe Duo?
Frequent business trips, users who need
wireless charging
, you need a multi in one charger that does not take up space; the other is not bad money, is like, because more than 1000 fast you can buy a lot of third-party multi in one w
ireless charger.