It's worth watching! IPhone 12 charger purchase strategy for all iPhones
For apple powder, although the iPhone 12 is fragrant, it's not equipped with
charger
and earphone, which is a bit uncomfortable~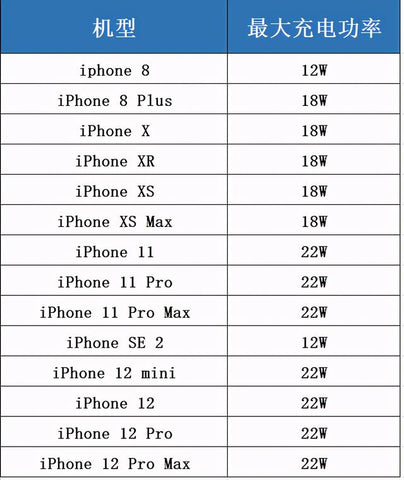 As a result, how to choose the
charger
for the iPhone 12 has become a huge problem~
Because the original is expensive (not durable), although the third party is cheaper, it has to choose all kinds of MFI certification. Otherwise, if something goes wrong, apple doesn't guarantee it. There are too many kinds of products, but it's more difficult to choose~
As a person who has been working in 3C digital accessories industry for several years, he has a good understanding of various mobile phone and peripheral accessories brands,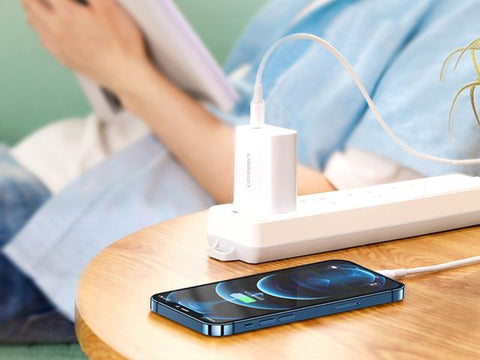 Let me talk about it from two aspects: how to choose the
charger for iPhone
?
One is: how to choose the right charger (if you don't want to know, you can pull it down directly);
Second, recommend PD chargers that are worth buying (all of them have been evaluated before or know more about, and are recognized by the industry as not bad)
1、 How to choose
charger
1. Look at the charging power
Before choosing a
charger
, first of all, we should figure out the charging power of the mobile phone, and choose the charging strategy that matches the mobile phone to better charge the mobile phone.
Take a look at the fast charging power of each model from iPhone 8 to iPhone 12 series.
It is estimated (after all, Apple has not made it clear officially) that the newly released iPhone 12, like the previous generation of iPhone 11, supports a minimum of 22W fast charging (in fact, it is measured that the iPhone 11 series can reach 22W fast charging).
Therefore, when choosing
chargers
for iPhone 12, it's best to directly choose a PD fast charging charger of ≥ 20W.
If the power is less than 20W, don't consider it. Otherwise, the fastest charging speed can't be achieved, and the fast charging of iPhone 12 will be wasted.
Believe me, when you have experienced the speed from zero power to full power in one hour, you absolutely don't want to go back to the tortoise speed of Wufu Yian.
2. Identify fast charging agreement: PD fast charging
There are many kinds of fast charging, such as PD, QC, vooc, FCP and so on. I don't care. Just remember that Apple's fast charging uses PD, and it's enough to recognize "PD" when choosing chargers.
Because there are many PD + QC, Huawei FCP and other multi in one fast charging heads on the market, it may be easy for people who don't know them to confuse them, so here's a brief talk.
Of course, if you use apple and Android phones at the same time (now many Android phones support quick charging above qc3.0), you can choose the PD + QC multi compatible or two in one charging head.
If you use Apple + Huawei mobile phones, you can choose PD + FCP fast charging head;
Avoid too many charging head make a mess, go out only need to bring a more convenient.
3. The data cable sometimes affects the charging speed
Don't worry about the original lightning C-12 charging line.
But for most people, one cable is certainly not enough. They usually have one at home and one at the company, so they will buy extra spare charging cable.
Apple pays attention to this c-to-l line. When you buy a third-party line, you must get the official MFI certification. Otherwise, if there is a problem with charging, Apple will not guarantee it (but now it uses a third-party PD fast
charger,
I don't know if Apple guarantees it).
In fact, different brands of cable will have a certain impact on the charging speed, but many people ignore it.
4. Choose a brand if you don't know anything.
If you don't bother to worry too much, it's always right to choose by brand.
It's OK to make directly official original products, or accessories brands like Zimi, Anker, lvlian and Jingdong jingzao.
2、 Charger recommendation
Charger for iPhone only:
1. Apple original 18W PD charger: 149 yuan
Advantages: Apple original, guaranteed
Disadvantages: expensive, slightly large volume
You don't have to say much about the original 18W PD fast charging? It's expensive, but it's original after all. I'm worried that the third-party
charger
will damage the mobile phone battery (actually it won't). Just choose the original one.
However, the maximum original power is only 18W. If you charge the iPhone 11 Pro max, it can't reach 22W.
Also, if you want a
charger
to run all over Apple's iPhone, iPad and other products, it's not enough~
2. Anker nano 20W PD charger: 79 yuan
Advantages: small size, easy to carry
DIisdvantages: a little expensive
Recently, I feel that the whole network is pushing Anker
charger.
In terms of third-party accessory brands, Anker is generally a little expensive. When it first came out of the c-to-l line, it was more than 100, but now it's all cheap.
And this PD
charger
is an exception, only 79 yuan, so it may be so popular~
The point is that it's really small, basically the same size as Apple's original 5W charger. If you like a small charger, choose it.
It also supports pd3.0, apple 2.4a, qc2.0, qc3.0 and other mainstream fast charging protocols.
3. Lvlian 20W PD fast charging package: 79 yuan (limited time activities 69 yuan)
Advantages: cheap, cost-effective, MFI certification guaranteed
Disadvantages: the old model is a little larger, but the new model is small after upgrading
The apple fast charging package of lvlian includes PD fast charging head + c-to-l data line, so there is no need to buy another line for standby. Moreover, apple accessories of lvlian are all certified by Apple MFI, so you can rest assured. After all, lvlian has been focusing on digital accessories for nearly 10 years, and its reputation in the industry is pretty good.
This set of fast charging
charger
can be compatible with all Apple models, supporting the full range of fast charging from iPhone 8 to iPhone 12.
If you don't need a c-to-l line and just buy a charging head, the 20W PD fast charging head of lvlian is 35 yuan. It's really cost-effective. It's suitable for small partners with low budget.
4. Jingdong jingzao 18W PD fast charging package: 74.8
Advantages: foldable storage, cheap
Disadvantages: slightly larger volume
Like the green link above, this fast charging package also includes PD fast charging head + c-to-l data line. If you buy a charging head alone, it's 34.9 yuan, which is similar to that of the upstairs.
It's produced by Jingdong, and its quality is reliable. Moreover, it's a foldable pin, so it's convenient to carry out. This is not available in the previous models.
However, it may be because it is a relatively new "brand", so we are more cautious in choosing. Although there are 24000 comments, compared with hundreds of thousands of comments upstairs, it is still a small group.
If you can't make up your mind, follow the popular choice.