It's really, really small! Hands on experience of aohi magcube 30W Gan charger
In 2021, the global shortage of IC charging chips will lead to the silence of
charging head
manufacturers, and the speed of launching new chargers will also slow down obviously. For the
charger
field, the shortage of IC charging chips is definitely not a good thing, which will affect the development of the charging field, and many mobile phone manufacturers are forced to give up the standard mobile phone
charger
in the mobile phone box. For charger enthusiasts, it is really a kind of suffering, there is no surprise charger in their side to use.
But in April, a charger from aohi attracted my attention. When I saw its poster, I felt that the size of aohi magcube 30W Gan charger was really small, which looked like the size of Apple original 5v1a charger. So I wanted to buy one to see how small the real object is. At this time, the charging head network released the fans test activity, so I signed up to participate in the mass test, and obtained the opportunity of mass test. So there is a hand experience today.
First, let's look at the outer packaging box of aohi magcube 30W Gan charger. The overall use of black and white color external packaging box, the front aohi magcube 30W Gan charger body rendering diagram is located in the center, logo is placed in the top left corner of the front of the packaging. The design of aohi logo is very artistic and really has a very young vitality.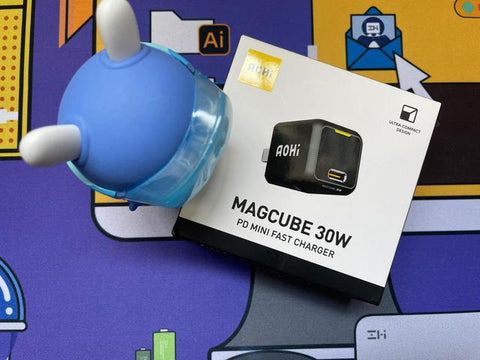 On the label sticker on the back of the package, it is clear that all parameters of aohi magcube 30W Gan
charger
are clearly written. It is of course equipped with Gan for 30W under such a small volume plug. It also supports 18 months of warranty, which is really conscientious.
Open the box, aohi magcube 30W Gan
charger
is lying quietly in the package, wrapped in yellow lining.
The most amazing part of the charger body should be its small volume first. It is really as small as the rendering diagram. It is really similar to the size of Apple original 5v1a charger. Even if comparing it with Anker powerport III nano 20W PD charger, both of them are almost the same size, just slightly larger, It's really a small 30W Gan charger.
iPhone Charger Adapter
Another amazing point is that the three-dimensional micro carved diamond pattern design on the interface side is very amazing, whether it is touched or looked very amazing. It looks like the diamond pattern design feels that it has its own personality. It is really great to wear fingernails.
The charger also has a charging indicator, and can give different light prompts according to different charging status, so that you can know the charging status of the charger at this time at the first time.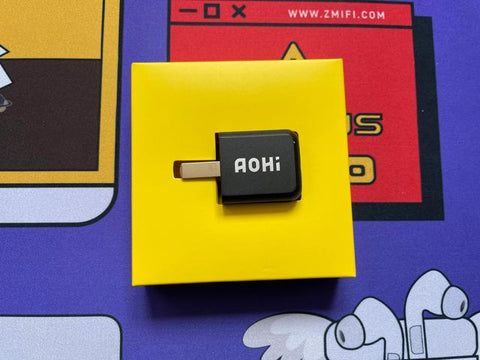 The charger identification is located at the bottom of the charger, which allows you to learn most of the charger information.
iPhone Adapter
The charger is tested for charging compatibility. IPhone 12 supports USB pd/apple2.4a fast charging protocol. The iPhone 12 is charged with aohi magcube 30W Gan
charger,
with power of 8.976v 1.458a 13.09w, and successfully shaking hands with 9V voltage gear, and enabling PD fast charging mode.
The charger is tested for charging compatibility. The iPad Pro 2020 supports USB PD fast charging protocol. The AahI magcube 30W Gan charger is used to charge iPad Pro 2020 with power of 14.91v 1.333a 19.88w. The voltage range of 9V is successfully shaken and the PD fast charging mode is turned on.
iPhone Charger Adapter
Finally, it concludes that 30W output power is inserted into its small volume. Fast charging visualization, micro current mode and intelligent fast charging of multi power section are all the advantages of it. However, the difficulty of heat dissipation and poor temperature control caused by small volume are its fatal disadvantages. The disadvantages are tested. Its charging power redundancy is basically not available, and the maximum is more than 30 watts. In short, some people may have it, just need to carry it with them, can at any time to add energy for him, let him worry about. Others may need multiple chargers to meet the needs. In short, if there is a need, consider it.