IPhone 12 doesn't send charger, it's finally sued by domestic users!
The new year is just around the corner. Today, Apple released the 2021 New Year's short film "a Nian", which was shot with iPhone 12 Pro max. let's see what the monster "Nian Shou" will do to little girl a ting under the lens of director Wang Ziyi?
2021 new year short film "a Nian"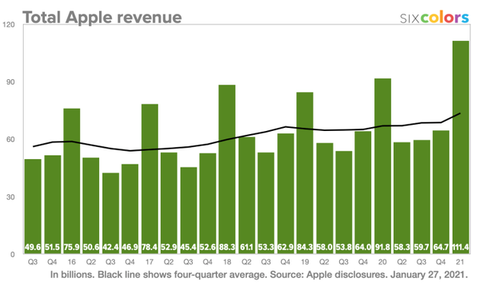 The performance and camera of the iPhone 12 series are really powerful enough, and the appearance of the new design has attracted many new users to buy. According to Apple's financial report released yesterday, the total revenue in the first quarter of fiscal year 2021 (October to December) was $111.439 billion, reaching a new high.
Among them, iPhone revenue was US $65.597 billion, up 17% year on year. Luca Mestre, Apple's chief financial officer, said the demand for the iPhone 12 was very strong, and the iPhone 12 series accounted for 98% of new iPhone buyers.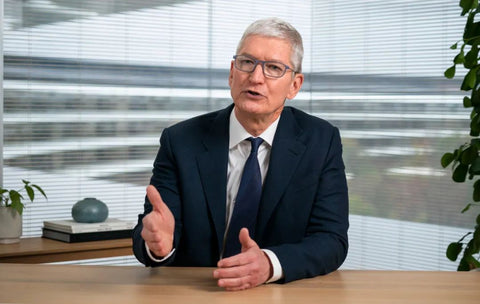 Cook also said that there are more than 1 billion iPhone users worldwide. Apple's share price has risen nearly 30% since October, with a market value of more than $2 trillion.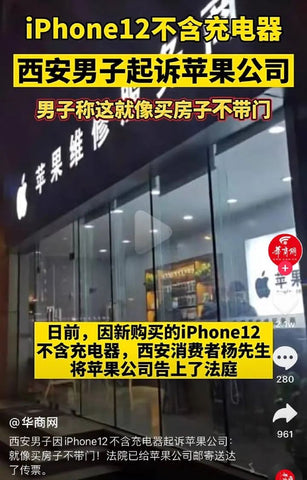 However, as the saying goes, "a few companies are happy and a few companies are sad", apple is still celebrating that the company has made history again, and the users are not very satisfied. We know that for the sake of "environmental protection", the iPhone 12 series doesn't come with chargers and earphones. Now the iPhone 11 and other old models follow suit and have new packaging.
Although many old apple users have extra chargers available at home, there are still a few users who can't charge without
chargers
It can be seen from the official website of qizha that a Mr. Yang in Xi'an sued apple for not sending the
charger
. The court session was held on January 26.
The thing is, on November 3, 2020, Mr. Yang ordered a 512gb blue version of iPhone 12 pro on Apple's official website. After receiving the goods, he found that there was only one mobile phone and one cable in the package box, and there was no charging head.
At the same time, the free charging cable in the package is usb-c interface, which is not suitable for the old charger. He found that an official charger costs 149 yuan, and he had to pay for it himself, so he took apple to court.
Mr. Yang thinks that buying a mobile phone without a charger is like buying a house without a door and buying an electric rice cooker without a bladder. He is completely fooling consumers.
As a result, apple did not appear in time and did not respond.
In fact, Apple has not been less litigious around the world about the iPhone 12 series without
chargers
and headphones, but this is probably the first time in China.
Previously, Procon SP, a public consumer protection agency in Sao Paulo, Brazil, asked apple to respond to the matter. Eventually, the Sao Paulo court ruled that apple must have a charger in its new iPhone or face high fines.
In France, the government requires that all phones sold must be equipped with headphones, so the iPhone 12 series will be sold in France with a larger package, including the earpods headset and the iPhone 12 series packaging box.
As a senior Apple user, I also think Apple's move is not very generous.
It's true that removing the attached
charger
and headset is environmentally friendly, but the option should be given to consumers, not Apple making decisions for users. In contrast, millet 11 is much smarter: two versions with and without
charger
are introduced at the same time, the price is the same, and users are free to choose.