IPhone 12 doesn't come with headset charger
CCTV news (reporter: Wang Jingyuan) at 1:00 a.m. Beijing time on October 14, Apple Online new product launch was held on time, at which four new products, iPhone 12mini, iPhone 12, iPhone 12pro and iPhone 12promax, were released.

Apple's iPhone 12 series is equipped with 5g chips, and each model supports many 5g bands, which can provide a wide range of 5g coverage in the world, which means that the iPhone has officially entered the 5g era. Among the world's major operators listed at Apple's press conference, three Chinese operators are also listed.

The iPhone 12 series doesn't come with a headset charger

At the press conference, Lisa Jackson, Apple's vice president of environment, policy and social affairs, announced that the iPhone 12 series would eliminate the power adapter and earpods (original wired headphones) that were included in the previous product packages.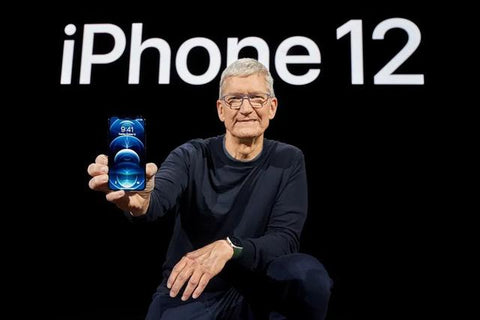 Lisa Jackson said this will make the iPhone's packaging smaller and lighter, and increase the number of packages that can be transported per pallet by as much as 70%, which will further reduce carbon emissions and avoid mining and using precious raw materials.

In fact, it has been reported that the iPhone 12 series will not come with earpods wired headphones. On the one hand, wireless earphones have been widely used in recent years, few people are wearing earpods, and the utilization rate of wired earphones has decreased significantly; Apple, on the other hand, hopes to boost its sales of airpods.

In June this year, Guo Mingfu of Tianfeng securities predicted that in addition to the wired headphones, the iPhone 12 series will also cancel the attached chargers to reduce costs. Guo believes that supporting 5g will significantly increase the material cost of the iPhone 12. In order to maintain the same starting price as last year's iPhone 11, Apple has to control the cost in other ways.

Except for mobile phones, the iPhone 12 series only has a usb-c to lightning cable, which is similar to the practice of airpods. They are all wired without chargers.

Is "one size fits all" appropriate?


The news that the iPhone 12 doesn't come with headphones and chargers has sparked heated discussion among netizens. Some netizens think that this is conducive to cost saving and carbon emission reduction, and for Apple's old users, the effect of Canceling Headphones and chargers is not big, "after all, iPhone and iPad add up to who doesn't have seven or eight square heads (chargers)". Whether it's on Apple's official website or tmall Jingdong Apple's official flagship store, according to the sales ranking, the sales of Apple's original chargers are not among the top parts. One of the reasons is that consumers have more choices than before. In addition to official accessories, there are all kinds of accessories on the market that consumers can safely choose.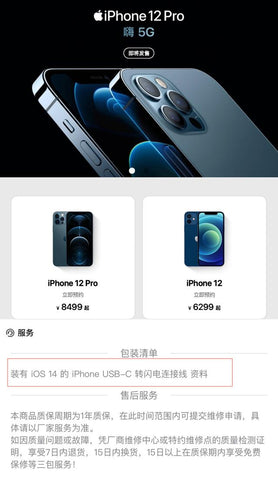 It is worth noting that due to the reduction of headphones and chargers, the price of the new iPhone has been lowered again, with a maximum reduction of 800 yuan. Therefore, netizens who support Apple's cancellation of the charger think that this may help them save money. After all, the price of accessories from third-party manufacturers is much lower than that of Apple's original accessories.

However, more netizens "don't buy" Apple's change. First of all, among the smart phone consumers, there are still quite a number of first-time buyers, and this part of users will continue to pour in every year. Apple's cancellation of the attached charger means that for new users, their most basic charging needs cannot be guaranteed.
iPhone 12 charger cable
In addition, not all users have the awareness of choosing a safety certified charger for charging. For these users, the original charger attached with the machine can at least ensure the safety of use. After all, before the explosion of mobile phone charging news emerge in endlessly, most of them are related to the use of charger without safety certification.

In the discussion on Apple's cancellation of the complimentary headset charger, a highly praised comment said: "it's better to launch two kinds of packaging, one with charger and headset, and the other without. The price reflects the difference, isn't it?" Although some old apple users have the original chargers, they are not compatible with the new mobile interface, which means that these users need to buy additional chargers.

However, the price of original iPhone accessories is not low. The price of the original 5v1a charger on the official website is 145 yuan; The price of the usb-c to lightning cable (1 meter) is 145 yuan, and the price of the 18W usb-c charger is 243 yuan, which adds up to nearly 400 yuan; The price of the lightning port is 223 yuan.

Some netizens suggested that the best way is to return the right of choice to consumers. For example, when purchasing a new iPhone, apple can cancel the charger, but it also provides a package option for these users, so that they can get chargers, headphones and other accessories at a lower price than buying them alone.