Great easy to use Philips car charger
Due to the rapid development of smart phone industry in recent years, it is a strong demand for users to charge mobile phones and other smart devices while driving. Plug in USB car charger through car lighter, and it will naturally become a new favorite of mobile peripheral products. Consumers have a wide range of choices in the market USB car charger products, how to choose the most suitable one among them?

As we all know, the entry threshold of the
car charger
industry is low, and the market is full of many uneven car charger products, so the car charger has been in an embarrassing market situation.
Although the manufacturing threshold is not high, but the safety of car charger is very important, although this kind of product looks insignificant in life, but the use of poor quality car charger will bring immeasurable safety risks.
Philips is a well-known old consumer electronics brand in the world, and has a high reputation in the car charger industry. In recent years, Philips has also released several USB port car chargers, which have a good market response and the price is close to the people.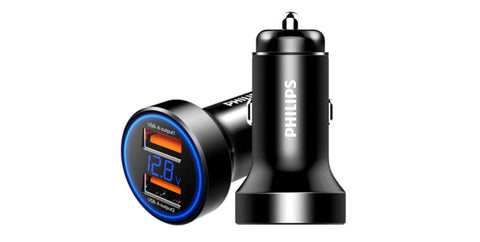 Here's a brief introduction to Philips.
Euronext: phia, NYSE: PHG, Koninklijke Philips Electronics N.V., Royal Dutch Philips Electronics Ltd.
Philips is famous for producing household appliances, military and civilian communication equipment, medical equipment, computers, instrument display systems, etc. It is also one of the largest arms companies in Western Europe. From Sputnik and Apollo to the latest space shuttle, it has Philips products.
In recent years, Philips has launched a widely acclaimed dual port fast charging car charger - dlp3526n.
The car charger adopts aluminum alloy body, dual usb-a port design, supports a variety of fast charging protocols, and has a maximum 25W fast charging output, which can support the fast charging of Huawei, Xiaomi, Samsung and other mobile phones.
Parameter table:
In addition, the car is also equipped with an LED display, which can monitor the car battery voltage in real time. Here is the appearance introduction of Philips's double port fast charging car.
1、 Appearance of Philips dual usb-a fast charging car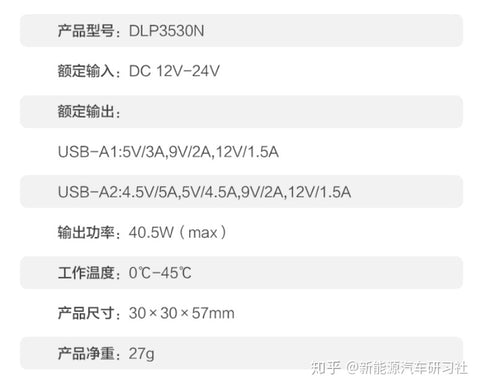 Pure black fuselage adopts two-stage design. The main body is made of aluminum alloy. The surface is sandblasted and anodized. The handle is delicate. The logo of "Philips" is lased on the side. The shell of the positive part is made of plastic, which has good insulation and avoids short circuit between the positive and negative poles.
The other side is the product parameters, model: dlp3526n; input: dc12-24v; output: 4.5v/5a, 5V / 4.5a, 9V / 3a, 12V / 2A; dual port simultaneous output: 5V / 5A. It has passed CE certification. There is a LED display screen between the two interfaces, but it is very hidden, and it is almost difficult to find it when there is no power. The output end panel is made of semi transparent acrylic material, and the surface looks black, which is integrated with the color of the fuselage. The edge of the output end is chamfered to form a highlight ring, which makes the whole product look more delicate.
Interface test
Use chargerlab power-z kt001 to detect the fast charging protocol of usb-a port of vehicle charging. The display supports apple 2.4a, Samsung 5V / 2a, USB DCP 5V / 1.5A, qc2.0, qc3.0, AFC, FCP, SCP and other fast charging protocols.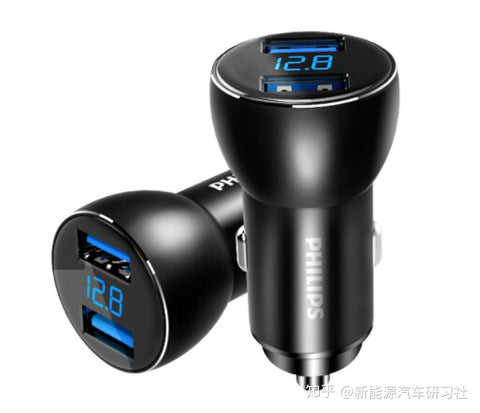 The other interface also supports apple 2.4a, Samsung 5V / 2a, USB DCP 5V / 1.5A, qc2.0, qc3.0, AFC, FCP, SCP and other fast charging protocols.
Single port output to Huawei mate20 Pro charging, voltage 4.61v, current 4.73a, charging power about 21.85w, support Huawei SCP fast charging.
Single port output to Xiaomi 9 charging, display voltage 8.95v, current 1.85a, charging power about 16.6w, support fast charging.
Single port output to iPhone XS charging, display voltage 5.14v, current 2.35A, charging power about 12.11w, support apple 2.4a charging protocol.
summary
Philips dlp3526n car charger adopts aluminum alloy shell, giving consideration to handle and heat dissipation, pure black appearance design, low-key and introverted. Equipped with LED voltage display, users can know the voltage of car battery in real time. Dual usb-a port design, single port output for fast charging mode, can support qc3.0, qc2.0, AFC, FCP, SCP and other fast charging protocols, most of the mainstream mobile phones on the market can achieve fast charging. The dual port output mode is 5V, which can charge two devices and adapt to different scenarios.
After dismantling the charging head network, it is found that sw3517, a fast charging solution of Zhuhai Zhirong, is adopted in this car. The single chip realizes voltage reduction control and protocol identification. The PCB design is simple, and has very good compatibility and powerful output protection function.