Does apple have a third-party data cable?
Position: to protect the normal use of the device, please use Apple MFI certified products.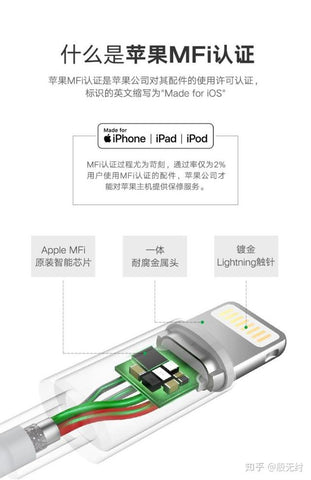 First of all, let's learn what Apple MFI certification is.
In addition to charging, the data cable also has the responsibility of data transmission; In addition to the original data cable, many iPhone users will choose to buy a new data cable as a backup. However, the official cable is too expensive, and there are too many cheap cables to choose from. Moreover, if you buy a poor quality data cable, it will not only lead to abnormal heat, damage the battery, but also the hidden danger of data loss.
Because I do have the need to use several mobile phones at the same time for a long time in my work, so I have prepared a lot of MFI certified, durable and cheap data cables to recommend to the subject.
Green League
Shenzhen lvlian Technology Co., Ltd. is an enterprise integrating independent R & D, design, production and sales of digital accessories, charging equipment and other products.
Xiaomi purple rice noodles
ZMi purple rice Apple data cable provides TPE protection layer, tin-plated copper protection layer and aluminum foil shielding layer three layers of protection materials, making the wire more durable and safer in the use process.
There are two kinds of black and red braids. In order to avoid the disorder of use, the magnetic absorption design is adopted. With the attached magnetic suction pendant, it can be attached to the desk or the bed. When it is not used, it can solve the problem of storage by a simple action.
Finally, we can extend the service life of data cable under the Popular Science Popularization:
Avoid contacting liquid on data cable plug, and it is forbidden to use when plug is wet;
Avoid violent plug insertion during the use of data cable plug

Clean up the dust or foreign matter in the mother seat of mobile phone, flat plate and other equipment regularly.