Does aohi magcube 30W charger work well? Use the measured data to give the answer
Recently, my wife's iPhone x, which has been used for more than three years, was finally smashed by my 1.5-year-old daughter. The front and back screens are PK, the back screen is broken, the front screen is the inner screen broken, and there are green color blocks and horizontal lines beside the screen. When I got it to the repair shop, I said I would replace it with the so-called "original screen". The front and back screens cost 880 yuan in total. After much consideration, it's better to buy a new machine directly. So I started with the iPhone 12. But now apple is really stingy. I can't bear without headphones. There is no original charger, and the original data cable is still type-C to lightning. In order to be worthy of the new iPhone 12, I decided to start with a new type-C interface charger. Finally, we chose aohi magcube 30W charger recommended by many people in Zhihu recently.
Here's the iPhone x with the front and back screens broken by the invincible cute. It's not cost-effective to repair it. I have to bear the pain to replace it with a new one.
Unpacking
Because I usually use all kinds of equipment with charger, so the charger is no concept, there is no time to study. After reading the articles of several tycoons on the Internet, I decided to start with aohi magcube 30W charger. There are three main reasons
The first is because aohi is a self owned intelligent brand of Aohai technology, which is a listed company and a core manufacturer of mobile phone chargers of many international brands. Magcube 30W uses chips from power integrations of the United States, which is the supplier of Apple's original charger, so its quality is more guaranteed;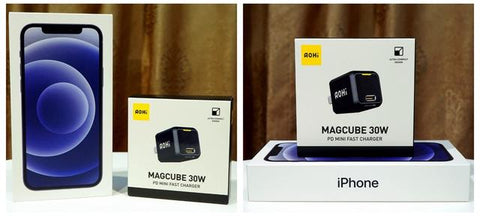 Second, because of its small size, it is easy to carry out;
The third reason is the high power. The nominal power is 30W. It is said that the maximum measured power can reach 33W. If you are on a business trip, you can basically bring such a small thing to meet the needs of mobile phone, tablet and power bank at the same time.
Open the box first. Aohi magcube 30W charger is available. There is only charger, warranty card and instruction manual in the packaging box. There is no attached charging cable. Charger all around 28 × twenty-eight × 32mm, basically the same size as the original apple 5V / 1A charger, weighing only 42g. This volume and weight is the smallest of all 20-30w chargers on the market. After sales is to provide 18 months of warranty service.
The main reason why aohi magcube 30W charger can achieve small volume and high power is that it uses Gan technology and can support the new generation Gan + fast charging technology. It supports pd2.0, pd3.0, qc2.0, qc3.0, qc4.0 +, PPS, apple 2.4, bc1.2 and other protocols, and can intelligently match the fast charging function of various digital products. No matter you are using Android mobile phone, iPhone, iPad, switch or laptop, magcube 30W can generally provide matching fast charging power. Although I have no requirements for the appearance of the charger, I still want to praise the appearance design of magcube 30W.
Pure black cube shape, frosted shell, dirt resistant, drop resistant, wear-resistant. The edges of the four sides have been chamfered on both sides, which is square and round. The external side of the charger adopts three-dimensional micro carving technology, and the diamond texture mesh feels very good. The type-C interface is designed with a three-dimensional silver decorative ring, which is a bit chic to match with the Yellow inner tongue. Users who are tired of black, red and blue USB interfaces may feel more eye-catching.
The top of the type-C interface is led status indicator, which is used to display three different charging states of three-stage safe fast charging: fast charging state when the indicator is yellow, normal charging state when the indicator is blue for a long time, and micro current charging state when the indicator is green for a long time. The LED indicator is also treated with fog surface, with moderate brightness and uniform light, and will not dazzle in the dark.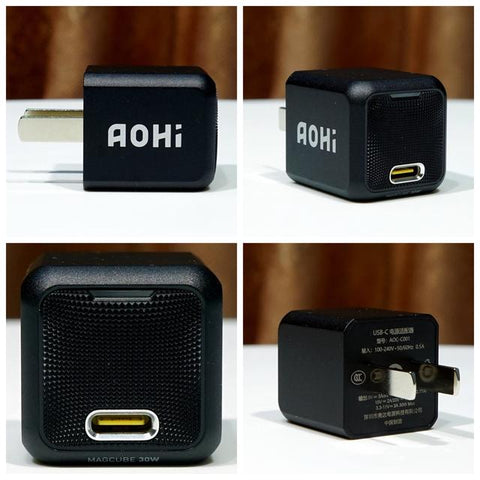 (LED status indicator, green, blue and orange to display three different charging states of three-stage safe fast charging)
In contrast, the aohi magcube 30W charger is similar in volume but much better in appearance than the original 5V / 1A charger of apple.
Compared with Apple's 5V / 1A charger, it may not be able to see how small the volume of aohi magcube 30W is. Then compare it with lipstick, more intuitive. Put it in a girl's hand and save it in the bag than lipstick. It's really a travel artifact.
Actual measurement
Judging from the nominal parameters of aohi magcube 30W charger, the input voltage range of this charger is 100-240V, covering the voltage standards of all countries, so it is suitable to travel around the world. The output parameters are: 5v-3a9v-2.22a9v-2.77a15v-2a20v-1.5a. In order to roughly test the performance of this charger, I used several mobile phones and tablets at home to try aohi magcube 30W, and tested whether the various parameters during charging were within the normal range.
The first measured mobile phone is the new iPhone 12, compared with Apple's 20W fast charger. Both chargers are able to successfully handshake PD fast charging protocol on iPhone 12 and enable 20W fast charging. The voltage and current are basically the same, and the full charging time is about a little more than 100 minutes. The second mobile phone is vivoiqoo Pro 5g, which I have used for more than a year. This mobile phone is attached with 44w fast charging, and the default power is larger than that of aohi magcube 30W. When using the original 44w fast charging, the charging protocol is vivo flashcharge. Although aohi magcube 30W can not handshake flashcharge protocol, it can still handshake PD fast charging protocol and enable 18W fast charging. The iqoo Pro 5g can be fully charged in less than two hours. The third is the glory 20 youth version. When using the glory 20W fast charging charger, the handshake protocol is SCP. When using the aohi magcube 30W, the handshake protocol is PD. Similarly, the 20W fast charging is enabled, and it takes about 60-70 minutes to fully charge the battery.
According to the power of mainstream mobile phones and tablets, it is difficult for aohi magcube 30W charger to achieve full load 30W actual output. So I tried high-power laptops and power bank. These two devices have a big appetite, which can make the actual output voltage of aohi magcube 30W charger reach 20V, output current 1.5A and output power 30W.
The actual power of aohi magcube 30W can also exceed the nominal maximum power of 30W when charging multiple devices at the same time by using a multi terminal charging line. After 40 minutes of full load operation, the maximum surface temperature of the charger is 52 ℃ and the room temperature is 28 ℃. It can be seen that the calorific value of aohi magcube 30W is relatively small.
Conclusion:
Advantages and disadvantages of aohi magcube 30W charger:
1、 Advantages
1. Small size, light weight, the volume is only as big as apple 5V / 1A charger, the weight is only 42g, it is very convenient to carry out;
2. High power, nominal power of 30W, support voltage input range of 100-240V, covering all countries' voltage standards, travel or travel with one can meet the charging needs of mobile phone, tablet, power bank, micro single.
3. Good compatibility, almost all devices can handshake PD fast charging protocol, fast charging smoothly.
2、 Disadvantages
So far, I haven't found any obvious shortcomings, but it's not user-friendly that there is no type-C to type-A adapter attached. After all, the charging cables attached to many devices are mainly type-A interfaces.
Purchase suggestions
Although the actual price of aohi magcube 30W charger is more than 110 yuan, it's a little expensive, but after all, it's a product for every cent. I'm quite satisfied with its performance, size, compatibility and appearance. In the current mainstream of the various chargers, this one should be considered the most balanced design. It is especially suitable for those users who have certain requirements for power and want the charger to be small and easy to carry. Magcube 30W is the best choice. The test results show that the PD protocol can be successfully used to open the fast charging function on a variety of devices. For users who need 65W or more power, it is impossible to demand the volume of the charger, so they can be small and exquisite. They can only choose those big Mac products.