Do you have to use the original charger when using Apple products?
In fact, the concept of "original" is very narrow. It's only Apple's own products. MFI accessories are quite extensive, and there is no lack of official approval from apple. For a period of time, "only at Apple" products, such as Belkin's three in one charger, were publicized at the press conference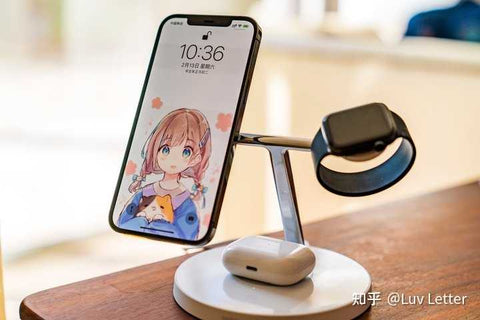 One charger can charge three devices. The stainless steel reflective material and the design language of iPhone / Apple watch are in harmony. This is the core difference between this product and other XX watt fast chargers

If you go out to charge your laptop / tablet and mobile phone, you can recommend Anker's 100W charger. A charger with extension cable can charge multiple devices at the same time, which is very convenient

As for the charger you can carry for a long time without making a decision when you go out:

My wife and I both use Apple phones, and I also use MacBook Pro. I don't know where the original charger went. Most of the time, it uses the charging head of the auxiliary factory.

The choice of mobile phone charger

First of all, my daughter-in-law bought the iPhone 12 Pro Max without a charging head. I use the charger of Anker

Five minutes from more than ten to 23 percent

20 minutes, from 20% low power, charging to 63%, that is to say, if you get up everyday, connect the mobile phone that you forget to charge to Anker Anker's 20 Watt charging head, and wait for you to wash your face and brush your teeth and go out, it will be enough to withstand half a day.

This is a comparison between using Anker Anke's 20W charging head and charging with 5v1a


Charging options for going out: PD fast charging car charging:

We have four SUVs on this trip to Tibet. Every vehicle is equipped with Anker car charger of PD fast charging. This is my experience of two trips to Tibet last year. PD fast charging can be used to charge mobile phones and microsheets, which can solve the problem of poor signal of mobile phones in Tibetan areas, delayed photography, super fast power consumption, frequent power failure and unable to supplement power.

It's the same, basically half an hour to 6, 70% charge, get off the car can use more than half a day.

There is a certified, reliable brand charger, will not hurt the battery

For example, Anker Anker's 20W charger uses the same chip as Apple's original charger, which won't hurt the battery. In the process of fast charging, it will optimize the charging process and protect the mobile phone battery health to the maximum extent.

The smaller Anker is 79 yuan, which is only half the price of Apple's original battery charger.

Also, when you're out,

The selection of PD fast charging power bank will greatly improve the charging efficiency

I use Anker's power bank, 10000mah. It uses the cell after full safety testing and 10 times of safety protection, and the size of the bank card is similar to the small volume, anti falling and anti sliding appearance design, 3.5 hours of full charge. In order to support PD fast charging, the mobile phone can be fully charged 50% in the first 30 minutes (if it is an ordinary 5v1a power supply, it can only be fully charged 20% in the first 30 minutes), and it has an 18 month warranty.
iPhone Charger Cable
Macbook pro's lightweight charging options:

Anker 65W Notebook Charger is compact and can provide reliable power supply for MacBook Pro. When I run Lightroom classic, final cut pro and other programs, the power remains 100%.

In the answer:

Let's start with the conclusion. It's totally unnecessary.

Not only Apple products don't need to use the original charger, even if Android phones are compatible with the charging protocol, they don't need to use the original charger.

For myself, I can do it with a GaN charger, whether it's an iPad, iPhone, Android phone or a light notebook, as long as it can be plugged in and recharged, I can do it with a charger.

Even if I just bought the Savior r9000p and plug it into a 65W Gan charger, it can charge slowly. Why do I have to carry such a big brick.

At present, I have two Gan chargers. One is the think lipstick power supply, which is the following:

This one is usually put at home to charge iPad and Android mobile phone. In addition, I bought a 65W Gan charger of Xiaomi and put it in the unit to charge iPhone, Android mobile phone and slim book.
iPhone 12 charger cable

Since Gan, it seems that I haven't used the original charger. I can't help it. The speed of the original charger for iPad is OK, but the original charger for iPhone is too slow. I still use the original charger in 5S and 6, but I haven't used it in the future.

There is also the problem of charging in the car. After the original charger is removed, I don't know where to throw it. Oh, by the way, there is no original charger in 12. It's sold separately for 139. Isn't it good to buy a Gan?
iPhone 12 charger cable
Now that we're here, let's talk about Android by the way.

At present, many fast chargers in the Android camp, such as green factory's 65W, Xiaomi's 67W and 55W, Huawei's 66W and 40W, are mostly private protocols. If we use Gan chargers, we can basically only guarantee compatibility. For example, my own Xiaomi Gan and 65W chargers can charge Xiaomi 11's 55W. Xiaomi 11 pro and ultra have never tried, I don't know.

But when charging Huawei, it can only guarantee 22.5w. If you need to reach the highest charging speed of the mobile phone, you have to use your own special charger.

But it's easier for apple to say this, because Apple only needs to use chargers or data cables that have passed MFI certification. For example, many domestic manufacturers have passed MFI certification, and their chargers can be used.

Finally, it's unnecessary to use the original charger when using Apple products.