Disassembly report: Samsung Mickey sliding vertical wireless charger
The general wireless charger is either horizontal or built-up, while the vertical wireless charger is based on the integrated design of the body, which makes people feel tired. However, recently, the charging head network has obtained a very novel vertical wireless charger. This product is made by Samsung. It is composed of charging board and supporting seat. It can be adjusted by sliding and its position can be separated, which is not possessed by traditional vertical wireless charger.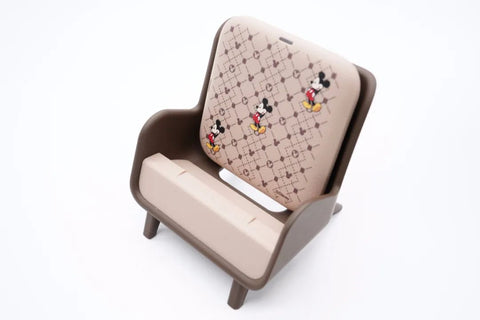 In addition, the famous Disney cartoon character Mickey is designed on the charging board, which is also a key point to attract consumers. When I first came into contact with this product, the modeling design really brightened Xiaobian's eyes. Let's take a detailed breakdown of this product to see how its internal workmanship is.
1、 Appearance of Samsung Mickey wireless charger
Samsung's Mickey wireless charger is composed of chair base and charging board. The two parts are absorbed together by magnets. The bottom of the chair is hollowed out to facilitate charging board wiring
From the side view, the back panel of the chair has a certain inclination, so the mobile phone will not turn out when charging.
There are three Mickey cartoon patterns on one diagonal line of the charging board.
Disney is printed in one corner.
The edge is equipped with LED indicator.
It is worth mentioning that when the power is turned on, the LED will flash red, yellow and green for a round and then go out. When the mobile phone is put on for wireless charging, the red light will be on continuously.
Close up when LED lights flash yellow.
There are sliding grooves on both sides of the back of the charging board, which can slide up and down when placed on the chair. No matter where the built-in coils are, the coils can be aligned by adjusting the position of the charging board, so that the wireless charging can be carried out smoothly.
In addition, there are product parameter stickers in the center
Model: bwssd-mbr01
Input: 5v2a, 9v1.67a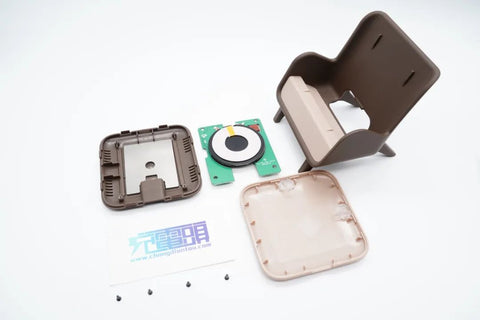 Output: 5v1a, 9v1.1a
Production date: October 2020
Products have passed the KC certification and Qi certification.
The input terminal is equipped with usb-c input interface.
Summary of dismantling charging head net
The design of Samsung Mickey wireless charger is very novel. The sliding design makes it not only be a vertical wireless charger, but also take off the charging board for charging. In addition, the famous Disney cartoon character Mickey was added to make it more attractive. Through the disassembly of the charging head network, we learned that the internal structure of this product is simple, the built-in metal plate is used for adsorption, the PCB board is fixed with screws, and the wireless charging main control chip adopts the core micro cv90331, with high integration.