Disassembly report: dinli 65W 2c1a Gan charger socket
Previously, the charging head network started a GaN
charger
with socket, equipped with 2c1a popular USB interface, supporting 65W PD fast
charging
and Huawei 22.5w SCP fast charging; In addition, it is equipped with three foot and two foot AC jack, which can supply power to up to five devices at the same time. The product adopts the long square column design, which has the portability that the traditional socket does not have. At the same time, it is more applicable than the
charger
. Let's take a look at its interior design and workmanship.
1、 The front of the packaging box is printed with topely life science and technology brand,
charger
appearance diagram, interface logo, 65W Gan fast charging, and five devices can be used at the same time.
The back is printed with the scene map and parameter information of the product.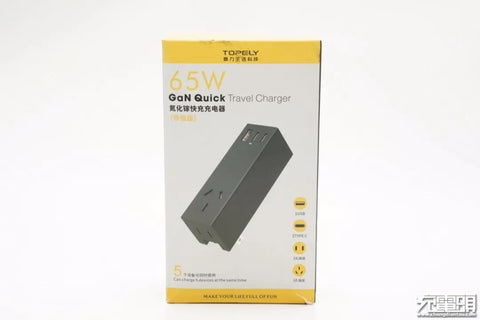 Open the packing box, fix the
charger
with a plastic tray inside, and coat it with a plastic bag to prevent dust. The package contains
charger
and instruction manual. This charger is made of PC flame retardant material, black shell, waist bright and frosted alternately, with foldable GB pin. The shape design of long square column makes the product have both functions of socket and
charger
, and it is very convenient to carry.
There are three pin jacks and 2c1a USB interfaces at both ends of the top of the fuselage.
The black rubber core of usb-c port does not expose copper, the yellow rubber core of usb-a port, and the LED indicator light is set beside the interface.
The head of the fuselage is also equipped with a two foot jack, which supports the simultaneous power demand of up to five devices, as advertised by the packaging box.
Topely brand is printed on the side corner.
The input shell is marked with charger parameter information.
Model: tcg03-65w
Interface: 2C + 1A + 2 socket
AC socket output: 110V ~ 660w / 220V ~ 1320w
Usb-c1 / C2 output: 5-15v3a, 20v3.25a, 3.3-16v4a
Usb-a output: 4.5v5a, 5v4.5a, 5v3a, 9v2a, 12v1.5a, 20v1.8a
Power distribution:
C1:65W,C2:65W,USB:36W(22.5W)
C1+C2:30W+30W (60W Max)
C1+A:45W+18W (63W Max)
C2+A:45W+18W (63W Max)
C1+C2+A:30W+18W+18W(66W Max)
Note: This product has no voltage conversion function
Brand name: topely Life Technology
Brand: Dongguan Dingli daily necessities Technology Co., Ltd
The measured length of charger body is 104.9mm by vernier caliper.
The width is 35.09mm. The thickness is 35.1 mm.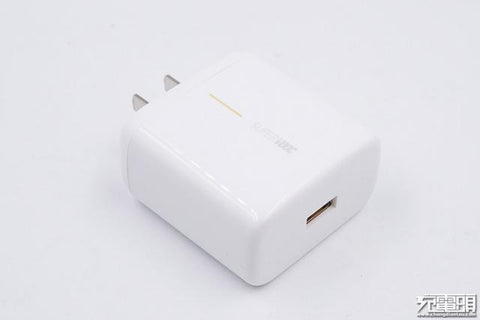 The specifications of three high voltage filter electrolytic capacitors are all 400V 33 μ F. Yongming kcx series. This is a special product for fast charging power supply launched by Yongming in 2019. Its working temperature range is - 55 ℃ ~ 105 ℃, and its service life is 3000 hours. It has the advantages of lightning resistance, low leakage current (low standby power consumption), high ripple current, high frequency and low impedance.
According to the charging head network, Yongming kcx series electrolytic capacitors are also adopted by bull 65W Gan fast charging, Philips 65W Gan fast charging socket, MOMEX 65W 2c1a Gan fast charging charger, Yubi 30W 1a1c Gan fast charging charger, jingzao 65W 1a1c Gan fast charging charger, Nubia 65W 2c1a deuterium front Gan fast charging and other products, Get the unanimous approval of customers.
The main control chip of the charger is on Anson ncp1342, which is a high frequency primary PWM controller with built-in active x2 capacitor discharge and multiple perfect protection functions.
According to the disassembly of the charging head network, the main control chips of Anson ncp1342 include Beisi 65W 2C Gan fast charging, xinmaowei 65W 2c1a Gan fast charging, Xiaomi 55W Gan charger, ASUS 65W Gan charger, oppo new 65W super flash Gan charger, one plus 65W warp flash charger, nut 65W single C-Port Gan charger, etc Lenovo ThinkPlus 65W Gan lipstick power pro, Xiaomi 120W super fast charger, iqoo 120W flash charger, etc.
The primary side Gan switch is from innoseco, the model is in650d02, the withstand voltage is 650V, and the conductivity is as low as 0.2 Ω, It meets the industrial application requirements of JEDEC standard, which is the core component of the whole product.
The ln650d02 "innogan" switch has good high-frequency characteristics and low on resistance, which is suitable for high-frequency and efficient switching power supply applications. It is packaged with dfn8 * 8, with ultra-low thermal resistance and good heat dissipation performance, which is suitable for high-power density switching power supply applications.
iPhone 12 charger cable
Innoseco disclosed to the charging head network that the inn650d02 "innogan" switch tube is based on the industry-leading 8-inch production process, and is the first advanced process Gan power device in the market. The large-scale commercial use of this technology will promote the rapid popularization of Gan fast charging.
According to the disassembly of the charging head network, the Gan switch tube has also been used by Shangxun 120W Gan adapter, REMAX 100W Gan charger, MOMEX 100W 2a2c Gan fast charger, Nubia 65W USB PD deuterium front Gan fast charger, femtosecond 65W USB PD Gan charger, Meizu 65W Gan charger, LaPO 65W USB PD Gan fast charger Rock 65W 2c1a Gan fast charging charger and other products are adopted.
iPhone Charger Cable
Summary of dismantling charging head net
Dinli 65W 2c1a Gan charger adopts long square column design, equipped with foldable pins and socket function module. Compared with the rising socket with charger, it's the opposite. It's mainly portable and suitable for people who often run around. The charger module is equipped with popular 2c1a interface, which supports QC, AFC, FCP, SCP, pe2.0, pd3.0, PPS and other mainstream fast charging protocols, with good compatibility and strong practicability.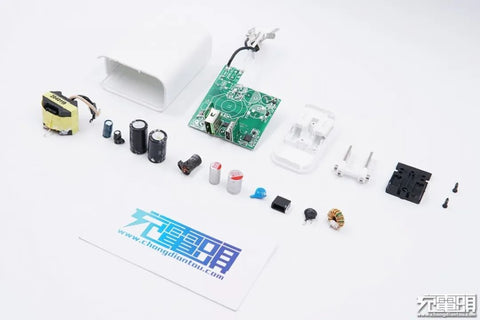 The charger module of this product adopts switching power supply and three-way DC-DC independent buck output architecture. The switching power supply is composed of Anson ncp1342 with innoseco Gan power chip and MPs mp6908a with Verizon synchronous rectifier MOS; In addition, Zhirong sw3516 + Weizhao vs4610ae is adopted for the three secondary step-down schemes, and the design idea is completely the same.
iPhone 12 charger cable
In order to make full use of the internal space, the input and output terminals are equipped with small plates. In addition, the electrolytic capacitor and transformer are reinforced by gluing, the isolation board is set between the primary stages, the chip on the back of the motherboard is glued and pasted with heat conduction pad to help heat dissipation and reduce the temperature rise.