Cyspo car wireless charger mobile phone bracket horizontal vertical dual purpose 15W wireless charging board
Cyspo car
wireless charger
has the characteristics of one hand operation. It uses integrated 2D acrylic as the charging panel to improve the heat dissipation efficiency of car charging to mobile phones and make charging faster. When the power is turned on, the atmosphere lamp lights up, and the arm clamping atmosphere lamp echoes with the car. The integrated design makes the appearance and performance better.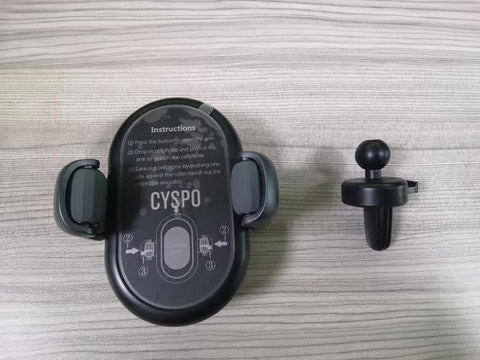 Components of cyspo vehicle
wireless charging
bracket
Cyspo car charger
The
wireless charging
vehicle bracket adopts roller type clamping arm, with thermoplastic plastic inside the clamping arm and anti-skid pad inside the bottom support, which has the effect of anti-skid, anti scratch and stability, and can effectively avoid the problem of machine injury during clamping. When in use, even if the road is bumpy, the anti-skid roller can be double locked, which can ensure the safety and stability of the equipment.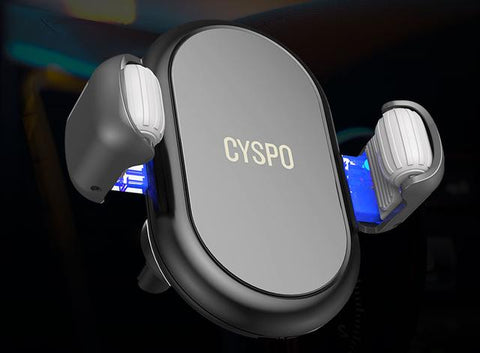 The
wireless charging
bracket adopts roller type
One hand operation can also ensure driving safety
360 degree adjustment
The cyspo universal wireless
car charging
bracket is compatible with a variety of charging mobile phones with Qi wireless function. The 15W double coil design can realize large coil and high power rapid charging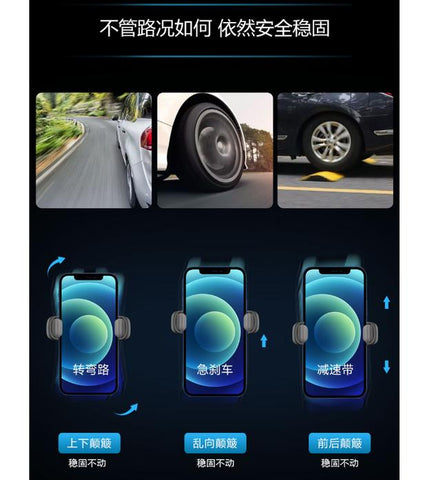 The key design on the top of the bracket allows the clip arm to unfold by gently pressing, the mobile phone can be easily put in and charged, and it can be taken out by one hand by gently touching the side key. The built-in FOD metal foreign body detection function can provide safety guarantee for equipment charging. The fixed clip adopts the design of universal rotating ball, 360 degree adjustment, which can adjust its own comfortable angle, and can also be used in horizontal and vertical screens to realize charging while guiding With the function of navigation, even one hand operation can ensure driving safety.
When the clamp arm is connected to the power supply, the atmosphere lamp will light up, and the clamp arm atmosphere lamp will echo with the car
Usage of cyspo vehicle
wireless charging
system
In addition to the above advantages, it also has 9 protection functions, so that you can feel safe in the process of driving and drive at ease!