Comparison of three popular car chargers, Philips steel cannon is a surprise
It has to be said that compared with the use of public transportation such as trains and cars, it is much more convenient for car owners to travel. Especially at present, the demand for relatives and self driving tours is increasing, and the time spent on cars is also significantly increasing. Mobile phone mobile phone is still a lot of bug, but mobile phone is not suck. One of the most serious problems is vehicle charger. The vehicle
charger
is the most mainstream solution to solve the problem of mobile phone renewal.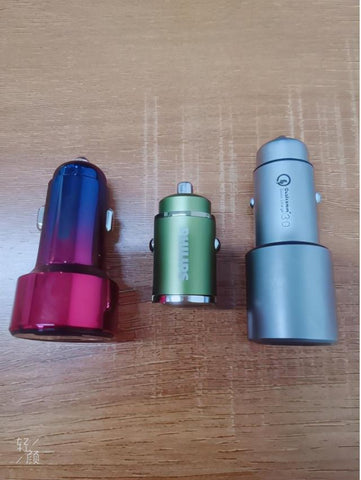 So, in the face of so many car charging brands, how should we choose? Today, we are here to compare the three
car chargers
of Xiaomi, Beisi and Philips for your reference.
First, take a look at some specific parameters of the following three products:
1: Bess PPS fast charging smart
car charging
Model: bs-c02c
Input: DC 12-24 V
Usb-a output: 4.5v/5a, 5V / 4.5a, 9V / 3a, 12V / 3a, 20V / 2.25A
Usb-c output: 5V / 3a, 9v3a, 12v3a, 15V / 3a, 20V / 2.25A
Total output: 5V / 6A Max
Size: 50mm * 30.5mm
Weight: about 26G
2: Xiaomi
car charger
fast charging version
Model: cc02czm
Input: 12v-24v-4.5a
Single port output: 5v-3a / 9v-2a / 12v-1.5a
usual port output: 36W Max
Size: 61.4mm * 24.6mm * 24.6mm
Weight: 200g
3: Philips small steel gun vehicle charger
Model: dlp4006b / 93
Input: 12-24 V
Usb-a output: 4.5v/5a, 5V / 4.5a, 9V / 3a, 12V / 2.5A
Usb-c output: 5V / 3a, 9V / 3a, 12V / 2.5A, 15V / 2a, 20v1.5a
Usb-a + C output: 5V / 5A
Single port power output: 30W
Total output: 24W
Size: 39.7mm * 20.6mm
Weight: 17g
Judging from the first impression, the fast charging version of Xiaomi
car charger
has fallen behind. The weight of 200g is not good in front of the other two models. The product has a heavy feeling in hand, which is undoubtedly too "heavy" in the current market. In contrast, the charging weight of Beisi PPS is about 26G, while the weight of Philips steel gun is only 17g, which is not a bit lighter.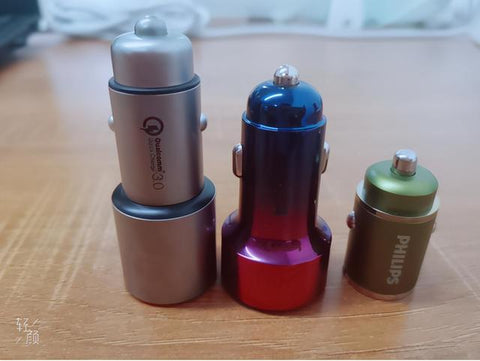 Look at the shape and size of the three products, Xiaomi
car charger
fast charging version is 61.4mm * 24.6mm, Beisi PPS fast charging intelligent
car charger
is 50mm * 30.5mm, Philips small steel gun
car charger
is 39.7mm * 20.6mm. It's very obvious that the three models are put together. The height directly changes from high to low. The Xiaomi model is twice as high as Philips.
As for the cross-sectional area, Xiaomi is a little better than Beisi, but it is 10 mm wider than Philips. If we say that the cross section of a small steel gun is the size of a dime, then beisichechong and Xiaomi are the size of a coin. This contrast highlights the advantage of the small steel gun in size, which is extremely small and exquisite.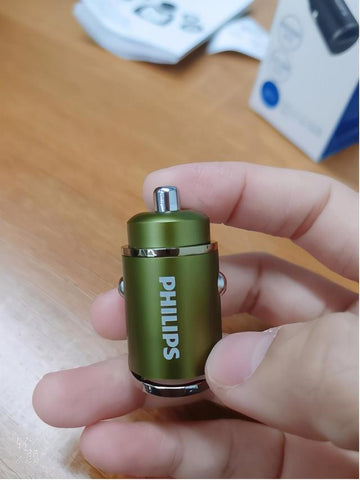 Despite these subtle differences, the car charger has a special sense of existence. You know, the cigarette lighter of a car is so big, and the larger the car is, after it is inserted into the cigarette lighter, it will have more volume left outside. Among the three models, only the Philips steel cannons can be perfectly embedded in the cigarette lighter without protruding, ensuring the aesthetic design of the car body itself. Some people will say that it's convenient to plug and unplug the large volume. In view of this, Philips steel cannon specially adds a handle design at the bottom, so it's easy to lift or pull it out, which reflects the intention of product design.
Of course, nowadays, beauty is justice. Although the
car charger
is small, it can also spell beauty. Xiaomi car's metal shell is only silver gray in color; Philips steel cannon is also metal shell, with two color codes of Avocado Green and iron gray; while Beisi PPS fast charging smart car's metal shell is made of plastic, with richer color choices, including Aurora red, Aurora blue and Aurora black. It can be said that Xiaomi's appearance tends to be the low-key and stable style that office workers will choose. Beisi can capture the hearts of young fashion users. As for Philips steel cannons, the Avocado Green is particularly prominent, and the metal materials are fashionable and high-end, which obviously has a larger audience.
After comparing the appearance of various factors, the next thing to compare is the charging ability of the three cars. First of all, the three types of
car chargers
are all double port fast chargers with "one for two" cigarette lighters, which are much more stable than "one for three". Secondly, from the parameters, it can be seen that the maximum output of the three products is more than 20W, which can help the intelligent device to charge in the shortest time. Take the small steel gun for example, it is specially designed for the iPhone 12, and the charging ability is very stable. Although the maximum output is marked as pd20w fast charging, in the actual use process, it can be found that it can reach 30W, which takes about half an hour, It can charge about 60% of the power of the iPhone 12, and its fast charging ability is beyond doubt.
It is worth noting that although the fast charging version of Xiaomi
car charger
is a dual port fast charging version, its output ports are all usb-a. unlike Philips steel cannon and Beisi, one of the output ports is a PD fast charging port that can support PD protocol, which can better meet the needs of Mac users.
Of course, the safety performance can not be ignored. After all, the use of all devices must be based on safety. On this point, obviously I prefer Philips small steel gun
car charger.
In addition to overheat protection, short circuit protection, over discharge protection, over-voltage protection and over-current protection, Philips small steel gun also has soft start protection, under voltage protection, aluminum alloy protection and temperature protection. The designer considers the possible dangers more comprehensively, which not only extends the service life of car charger and ensures the safety of digital equipment The charging safety of the product protects the car itself, which is very considerate.
Generally speaking, I naturally recommend Philips steel cannons, which can perfectly meet the needs of a large number of users in terms of appearance design and charging performance. In particular, it is specially designed for iPhone 12, with Apple's pd20w fast charging capability, high compatibility, full power output, and extremely high cost performance ratio, which can't be ignored. If you also like this
car charger
, you may as well search for "Philips steel cannon" on jd.com and tmall.com, and you will be happy immediately.