Can cell phone and computer chargers be mixed?
For business people, a
charger
can charge mobile phones and computers, which can directly reduce the number of portable charging devices. In particular, the charging head of many computers is very large and inconvenient to carry. As for charger mixing, it is completely feasible, but there are some restrictions. Recently, I have tested several people's problems on wechat.
Charging head
and computer participating in the test: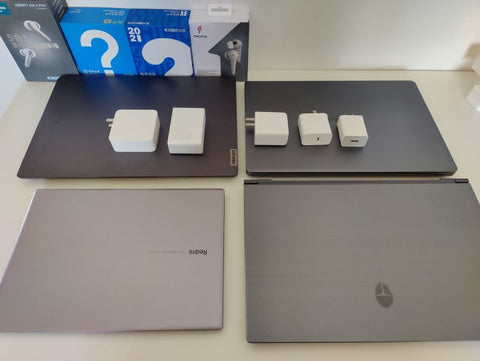 Charging head notebook mobile phone
Xiaomi 18W redmibook Air Xiaomi note8
Xiaomi 65W Xiaomi notebook Pro 16 One plus nine Pro
One plus 65W Lenovo Xiaoxin Pro 16 Xiaomi 11
Beisi 100W Raytheon 911 notebook Can mobile phone
charger
be used for computer?
At present, the main technology schools of Android mobile camp [1]:
USB PD 3.0
Qualcomm quickcharge 4 + / 4 / 3.0
Non QC representative 1 of Android Qualcomm camp: oppo vooc / super vooc
Non QC representative 2 of Android Qualcomm camp: Samsung adaptive fast charging
Huawei hypercharge
MediaTek pumpexpress 3.0 / 4.0
The results are as follows
Charger Redmibook Air Xiaomi notebook Pro Lenovo Xiaoxin Pro Raytheon 911 P1
18W Not enough Not enough Not enough Not enough
Xiaomi 65W 48W 60W 61W Not enough
One plus 65W 37W 43W 39W Not enough
Beisi 100W 38W 84W 96W Not enough
Due to the small test range, the above only represents the tested model
Group 1: Xiaomi 65W
Hongmi redmibook air + Xiaomi 65W:
To charge the computer, the mobile phone charger needs to meet the following requirements:
Computer supports type-C charging
Mobile phone charger output is greater than 18W
Apple Charger Cable
Laptop can't run at high load
If the mobile phone
charger
wants to charge the notebook, it is necessary to see whether the mobile phone charger is a special protocol or not. If it is a public PD protocol, it is not difficult to have more than 60W. However, because of the limited sample I tested, more charging products are not included in the test. From the current test results, the effect of the special Gan charging head for Xiaomi and bets is good.
Is there any problem with using a computer
charger
for your mobile phone?
There is no problem charging a mobile phone with a computer
charger
, but most of it can only run at about 20W. Even if your mobile phone supports 65W fast charging, the computer charging head can only give 20W power. This is determined by the PD chip inside the mobile phone. However, although the speed is not very fast, it can also be filled with a 5000mha mobile phone in about 2 hours.