Apple wants other companies to follow Apple's example and no longer have standard chargers and headphones
Today is October 14, 2020, 78 days before the end of the year. On October 14, 1851, Reuters officially opened in London.
one
Apple wants other companies to follow Apple's example and no longer have standard chargers and headphones
Apple officially released the iPhone 12 series, and announced that the iPhone no longer comes with standard headphones and chargers. Apple's senior vice president said that in order to expand its beneficial impact on the earth, he hoped other companies would follow Apple's example and cut off standard earphones and chargers in mobile phones and other products.
In addition, apple said users around the world have more than 700million pairs of lightning connector headphones, two billion Apple chargers and billions of third-party chargers.
IPhone 12 National Bank price announced: 5499 yuan starting from the price
Apple's second autumn conference was held at 1 a.m. today. Currently, Apple's official website has announced the price of four iphone12's National Bank:
The price of the iPhone 12 mini (5.4 in) 64g/128g/256g is 5499 yuan / 5999 yuan / 6499 yuan respectively;
The price of the iPhone 12 (6.1 in) 64g/128g/256g is 6299 yuan / 6799 yuan / 7599 yuan respectively;
The price of the iPhone 12 pro (6.1 in) 128g/256g/512g is 8499 yuan / 9299 yuan / 11099 yuan respectively;
The price of the iPhone 12 Pro max (6.7 in) 128g/256g/512g is 9299 yuan / 10099 yuan / 11899 yuan respectively. The entire iPhone 12 system no longer comes with wired headphones and chargers.
The iPhone 12 /iphone12 Pro opens pre purchase on October 16, and the iphone12 mini/iphone12 Pro Max opens on November 6.
Apple's homepod Mini is priced at 749 yuan, with 2 per customer limited.
Apple has launched a new 20W usb-c power adapter for $19
In addition to the iPhone 12, Apple has added a new 20W usb-c power adapter to its accessories family. The new 20W usb-c power adapter replaces Apple's $29 $18W usb-c power adapter. The new 20W usb-c power adapter retails for $19.
Apple will not only cancel the standard charger and earpods from the packaging box of the entire iPhone 12 product line-up, and the continued sale of iPhone se, iPhone X and iPhone 11 will no longer be included in the standard charger and earpods.
four
Snapchat will be one of the first manufacturers to apply new technology lidar
Apple launched its latest flagship iPhone models, iPhone 12 pro and 12 Pro max, at its fall release. The two devices, which are designed to achieve a more immersive augmented reality (AR) experience, are adopting a new lidar. Snapchat today confirmed that it will be one of the first to apply lidar, a new technology, to its IOS applications.
As apple explained in its activities, lidar (light detection and rating) can measure the time it takes for light to reach and reflect back to the object. In addition to the iPhone's machine learning capabilities and development framework, lidar can help iPhone understand the world around you. Apple has applied the technology to its iPhone 12 Pro model, which helps improve low-light photography because of its ability to "see in the dark.".
five
Netflix cancels 30 days free trial worldwide
Netflix no longer offers users free trial service opportunities worldwide. Instead, users must choose a payment plan to use, but they are not subject to the contract and can cancel the service at any time.
The company appears to start cutting back on free trials last year. In some countries, Netflix cancelled the 30 day free trial option as early as march2019, but then recovered the 14 day free trial offer in May. In countries such as Spain, at least from the beginning of this month, the option has gone.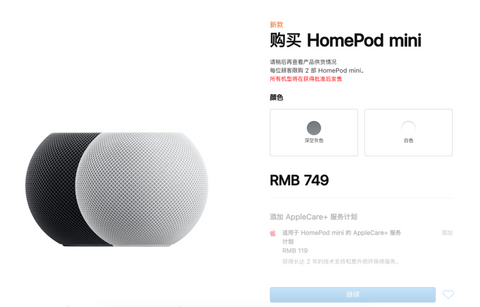 In July, Netflix's global users reached nearly 193million, an increase of more than 25 million over the beginning of the year. Given the rapid growth in the first half of this year, they seem willing to try to cancel free trials to see their impact.
six
KFC will push snail powder for instant food products cooked at home
KFC said it launched a series of fast boiled packaging foods including snail powder, and its first season products were listed on October 12, according to the Beijing News. However, these products are not suitable for Tang food, but for "lazy economy" to launch fast cooking products at home.
seven
Ant group: IPO plan is making progress in obtaining regulatory approval
In response to reports that the IPO of ant group may be delayed, ant said that the listing plans in Shanghai and Hong Kong are making "steady progress" in obtaining the necessary regulatory approval. The company's spokesman said the ant group's listing plan has no clear timetable as other a+h shares, and no speculation about the timetable is based

eight
Tesla signed and landed in Hainan to participate in the construction of free trade port
According to China News Agency, Hainan free trade port held a centralized signing ceremony for key projects on the 13th. Tesla, the American electric vehicle manufacturer, signed a contract to set up a new energy vehicle Innovation Center Project in Hainan and arranged the super charging pile around the island.
Xuyao, sales manager of Tesla Hainan, said in an interview that Tesla will build its own charging network facilities in Hainan, and improve the line layout of super charging piles on the East, central and Western lines of Hainan ring island. Tesla plans to expand the distribution of sales network and after-sales network in Hainan, and provide complete direct integrated services, he added.
nine
Alphabet "x lab" launched the new agricultural project "mineral"
The X Lab of alphabet, Google's parent company, recently launched a new computing agriculture project, mineral. According to Elliott grant, the project leader, focuses on sustainable food production and large-scale cultivation, and focuses on "developing and testing a series of software and hardware prototypes based on breakthroughs in artificial intelligence, simulation, sensors, robots and other fields".
The project was originally established in 2019 and has been officially named "mineral"" Mineral "will try to target the technology to solve sustainability issues. These include providing food for the growing population on earth and more effective crop production by understanding the growth cycle and weather patterns. The project also hopes to manage land and plants, as the impact of climate change complicates the ecosystem.