Apple fined $200 for murder caused by charger
When the iPhone 12 was released last year, apple made another start for the mobile phone industry: it announced that the iPhone would no longer come with a
charger
for the sake of environmental protection.
At this time, Brazil made a big move. Apple has been fined $2 million in Sao Paulo, Brazil, for violating the consumer protection act because the new iPhone doesn't have a
charger.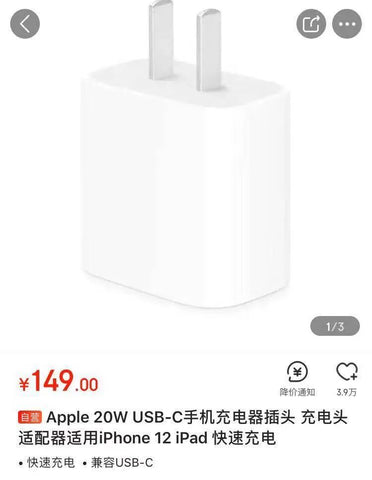 Starting with the iPhone 12, apple doesn't come with a charger, saying it can reduce carbon emissions and use of rare earths. In December last year, Brazilian authorities informed apple that there was no
charger
in the iPhone box in Brazil, which violated the consumer protection law.
Apple responded by saying that most customers already have a spare adapter and that it is not necessary to provide another adapter in the box. This has caused a lot of controversy, but it does not seem to affect Apple's mobile phone sales.
However, apple is "big at home and big at business". A fine of US $2 million may not be enough to make apple feel painful. However, this is only a fine imposed by Sao Paulo, Brazil. Next, Brazil's states will certainly keep up with it, and other countries with relevant laws should not be wrong.
After the iPhone 12 boldly announced that it would no longer come with a
charger
, although it was connected all the way, its sales volume did not decrease, and it attracted the Android camp to follow suit. Samsung will follow suit in the future, but the specific plan is not yet known. Our Xiaomi has already kept up with us, but as soon as the policy comes out, it's not good enough. Rebus can only come up with two solutions, one is packaged with
charger
, the other is packaged without charger. If you say it's environmentally friendly and you already have a charging head, you can buy one without a
charger
package. If you need a
charger
, you can buy one with a charger package. The price is the same. You can choose by yourself. This scheme is really more suitable.
Of course, Apple's abacus is very clear. Environmental protection is only one of the reasons for this decision. The high profit of charger parts is the main reason why Apple and other companies do not have
chargers
.
Take the iPhone as an example. Now there is only one data cable left in the
charger
related accessories of Apple's mobile phone, and the market price is about 140 yuan. Before that, the value of
Charger
+ data line was 290 yuan. And Apple's data line is also quite easy to break, which is also an excuse to use environmental protection materials. However, professional organizations have analyzed the materials of this data line and found that the materials of this data line are not environmental protection, just to break quickly