Apple doesn't have a charger? Domestic products with three wireless chargers, both charging, but also when the bracket
It should be said that the ticket skipping of iPhone 12 is expected.
But in the name of "environmental protection", we don't have headphones and chargers, which is really unbearable.
Although the original charging will not change for ten thousand years, the 5v1a is slow, but at least it is a set.
What's the use of optical wiring without charging head? My charging wires are as many as a wire hole, and my desk is in a mess! It's not as comfortable as the whole wireless charger.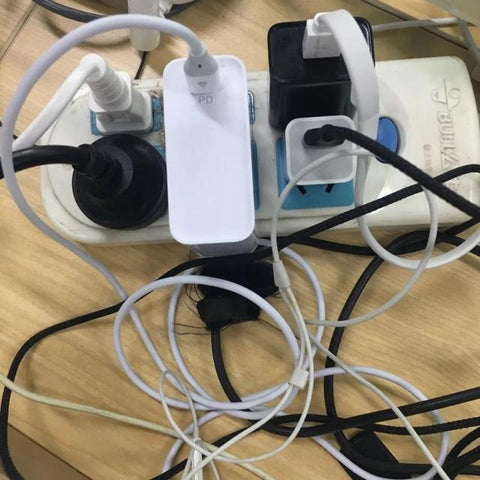 To be reasonable, wireless charging eliminates the entanglement of wires and wires. It can be used as you take it. The efficiency is not low. The charging experience is much better than that of wire charging in all aspects.
Maybe the only disadvantage is that you can only charge one device at a time.
After estering the buyer's sister for a whole day, I finally got a wireless charging bracket that can charge your iPhone, airports and watch at the same time
[rock wireless charger] at the same time of multiple charging, you don't have to worry about the congestion of plug and data cable any more!
Not only the desktop becomes clean immediately, the price is less than a quarter of the three sets of charging equipment you buy! Cost effective!
And the design of this scaffold directly captured the Oscar prize of IF, the design circle, which was awesome.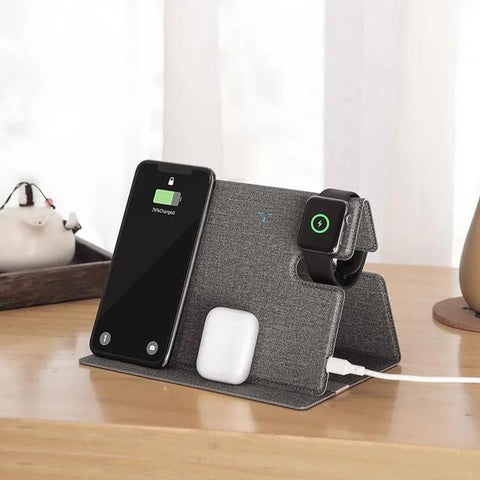 Reasons for recommendation

At the same time, charging mobile phones, watches and earphones can triple the efficiency!
Discharge and charge, intelligent matching voltage and current, safe and assured
Bracket material is excellent, anti dirty waterproof, three in one, the price is cheap!
Three machines charge at the same time
First of all, although the price of charging bracket is low, the function is absolutely not shoddy.
It provides 2.5w/10w/7.5w/5w power fast charging, twice faster than the original charging package!
And the three charging coils are independent of each other.
Put the earphone, watch and mobile phone in the exclusive charging position, the charger will be fully open, and no one's charging speed will be delayed!
And compared with the traditional flat wireless charging, the biggest advantage of the bracket is that it turns into a mobile phone bracket immediately.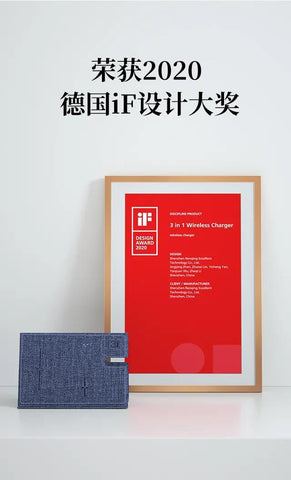 It's perfect to play while charging!
One discharge and one charge intelligent matching charging power
Rock wireless charger is very convenient to use, put the device to the crosshair, wireless charging begins.
It's very sensitive. It doesn't matter if the mobile phone is wearing a shell.
Among them, 2.5W is suitable for charging watches and earphones, and 10W / 7.5w/5w is suitable for charging mobile phones and watches.
The left and middle can charge the mobile phone, and the output power will be intelligently matched for different mobile phones.
When sensing successfully, the panel will light up the blue light at the corresponding position. Support Qi standard, built-in intelligent chip, over temperature protection, over-current protection, short circuit protection... All kinds of protection arrangements in place, charging more at ease!
High quality scaffold material and outstanding quality
The charging bracket is made of high-grade wear-resistant PU leather, which is comfortable and durable.
Not only that, this material is stain resistant and waterproof, no fear of hand sweat!
Wireless charger is only 6.5mm thick, very light!
Simple business style appearance with gray, dark green, dark blue color, very good-looking!
Price, the best discount, as long as 219!
It's not too convenient to solve this problem at one time compared with buying charging suit for mobile phone, headset and watch at the same time!
Why it's worth buying:
It solves the charging problem of three devices at a time, and is suitable for iPhone users with more cables and fewer plugs
Charging while acting as a support, pursuing the gospel of drama party
Compared with the miscellaneous brand charging head, the smart chip protection is more secure