Anker nano pd20w Mini charger evaluation (79 yuan)
Today I bring you the Anker charger evaluation.
This evaluation does not talk about price and cost performance, I just give you some things that are not included in the big media evaluation.
Let's start with the conclusion
The product has no false mark
All parameters meet the national standard
Charging the iPhone doesn't burn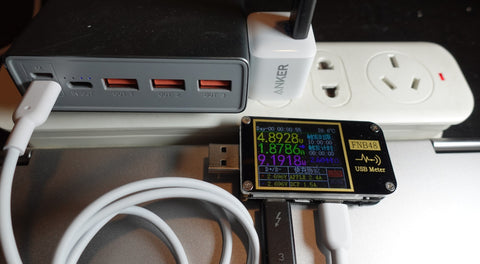 Charging Android phones is slightly hot, but not hot
The charging voltage is stable and the waveform curve meets the national standard
On demand recommendation, especially for Apple mobile phone users
The direction and content of this test are as follows
Display products and packaging and related contents in packaging;
USB voltage and current monitoring equipment is used to detect relevant technical indicators and information of charging head
Use various data cables to realize external charging, including but not limited to:
C to C cable for Android phone
C to l data cable (Apple lighting), input power bank to pd45w
C to l data cable (Apple lighting), charging Apple mobile phone (not tested for a long time)
The tools and data lines used in this evaluation are as follows:
Phoenix fnb48 Bluetooth USB detector supports almost all fast charging protocols, including proprietary protocols;
Bess e-marker chip data line, support 20v5a 100W;
One lvlian lightning 3 data line, supporting 20v5a, 100W, 40Gbps transmission;
Anker MFI certification C to lighting data line;
IKEA: 19.9 yuan;
Yubo 45 watt input and output power bank;
Yoga pd65 watt rechargeable light notebook;
One realme V15 mobile phone;
Shooting tool: Sony zv1 vloger camera.
Size: 28 * 28 * 46 (plug side, folding not supported)
In fact, Anker can be said to be small in the whole network, but the plug does not support folding, so it does not have the advantage in height.
The workmanship belongs to the upper class
Weight: all net Z light (no match, 30g)
The metal inside the socket is empty, the tongue spring is blue, and it is marked with a unique IQ charging protocol logo
Charging output:
It only supports 5V / 9V output, not 12V, as shown in the figure below:
Three common national standards
Anker's warranty agreement is as follows (18 months renewal)
Start evaluation:
The mobile phone is Android and supports PD protocol. The charging power of the mobile phone is not fast because it has sufficient power (90%)
I can't see clearly when I take the picture. If I deal with the picture, it can only be like this. Anyway, I can see more than 15 watts with my naked eye
Remake shows about 16 watts, voltage is 9V, output mode:
The mobile phone is Tianji 800 processor, and the display of PD MTK is very accurate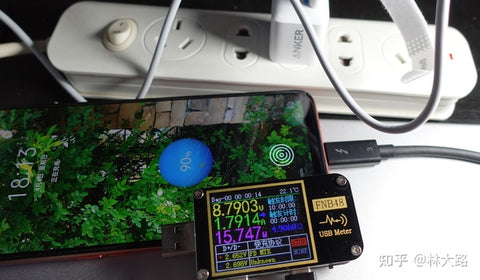 The charging head is connected in series to the detector through the e-marker data line, and the detector and the mobile phone are connected through the lightning 3 data line, as shown in the following aerial view:
The amplitude of waveform curve is small (based on 200ms monitoring)
It meets the requirements of national standard and will not damage the battery
Through protocol monitoring, the support is as follows:
The monitoring maximum charging power is 19.98 watts, and the mobile phone exclusive fast charging protocol is not supported
Only general bc1.2, QC and pd3.0 are supported.
What if a Huawei fast charging mobile phone is plugged in?
Generally, when PD protocol is activated for charging, it can reach 15W + output, and then bc1.2 has a maximum output of 7.5W.
The power bank charges 50% of its power, which is close to the peak value (19.98 watts) of monitoring, as shown in the figure below:
The voltage fluctuation is 0.0031v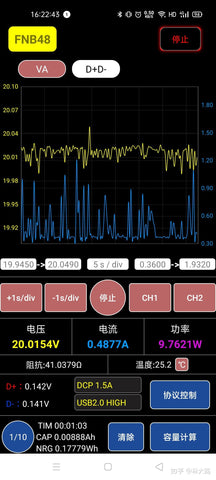 Use Anker's lighting data cable to charge the power bank (the power bank supports lighting interface), half the speed:
Do you want a 45 watt I / O power bank?
Because the power bank lighint charges 5v2.4a (standard apple protocol), the maximum power is 12W, as shown in the figure below:
Do you want a 45 watt I / O power bank?
Because the power bank lighint charges 5v2.4a (standard apple protocol), the maximum power is 12W, as shown in the figure below:
Recommended environment:
Full range of iPhones
Android mobile phone series
At the end of the article, I hope to provide some data for those who are interested in buying Anker nano charger.
If you are interested in the related tools and data lines, you can purchase them directly through the following links:
The e-marker cable comes with this Gan charging head. Generally, the e-marker cable is worth 50 yuan +. You can also buy this one alone. I don't know why Beisi is so cheap today
In short, the voltage is 20V and the current is more than 3a. It is recommended to choose the data line with e-marker chip for charging, which is more secure and guaranteed.
I use this detector fnb48 to support Bluetooth to mobile app to display data and control. Bluetooth is not needed. It is about 40 ~ 50 cheaper. The app effect is as follows:
Mobile phone opens Bluetooth app scanning connection, easy to operate
Lightning 3 data line, there are a variety of sizes, 0.5 meters for road use, green link this is cheap, Belkin try?
Anke's MFI certified data line, 0.9 meters, mobile phone charging is basically enough, green link's 55 yuan:
By the way, Sony zv-1, do you want one? Vlog artifact, one of the most unforgettable digital products that Dalu bought last year, is interest free in issue 24. I missed the next upgrade. Hahaha, the monthly payment is less than 200 yuan.