Anker 65W PPS charger evaluation: small as headphone box, mobile phone and computer can charge
A few days ago, I chatted with my friends about the current charging mode of laptops. I found that although many laptops in the windows camp are equipped with usb-c as standard, the charger is still a two in one form of power adapter and cable.
Although manufacturers have been trying to reduce the size of the adapter after the advent of the lightweight version, compared with laptops that are lighter and smaller, the shape and weight of the two in one power supply still affect the elegance and harmony.
For notebook charging, I personally like the usb-c plug-in power supply mode of Apple MacBook, Xiaomi notebook and Huawei matebook, because it can make notebook charging as simple as mobile phone charging.
I'm also interested in small size and high-power chargers. These chargers can not only help me reduce the load and charge computers and other devices flexibly, but also maintain high power output and shorten the time of each charge.
I have shown my own Lenovo ThinkPlus more than once in my article, a 65W charger that has won a lot of praise in the previous years. But because I've been using this ThinkPlus for more than a year and the pin shell has cracked, I have to retire early.
It is just as recently evaluated the Anker 65W PPS charger, which is in line with ThinkPlus power, but smaller than the former.
I thought it was Gan at first
When Anker 65W PPS was unpacked, I thought it was a GaN charger, because Anker had already made 30W powerport atom PD 1 with gallium nitride in 2018. This time, the volume of Anker 65W PPS was not large, only 68x30x45mm. Compared with 90x60mm bus card, it was still a small circle, but it had 65W output, which made me mistakenly think it was a GaN charger.
But otherwise, this time, Anker 65W PPS did not use gallium nitride. Instead, like nano, which last year was "five volts one amp, eighteen Watt," it only reduced the volume of high-power chargers to the minimum.
With ThinkPlus, the Anker 65W PPS has a flat shell, which makes the charger wider than the former, but shorter in height, and with foldable pins, it makes it easy to carry.
Compared with the 30 W charger of Xiaomi, Anker 65W PPS is only about one third higher than the former.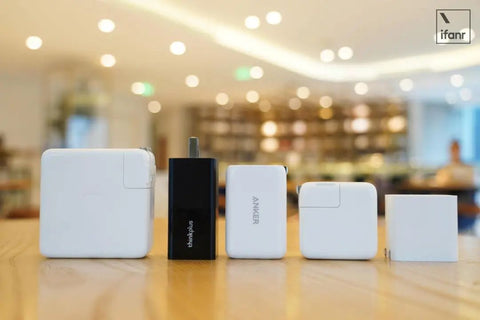 Anker did not use Gan in 65W PPS this time, not because of the performance problems of gallium nitride, but rather than more small-size and high-power chargers. Due to the requirements of manufacturing environment and process conditions, the price of such chargers is also high with the cost of water.
On the technical level, Gan is a technical milestone in charger, and it is a technology belonging to future charger. However, in the face of more realistic "cost-effective", the charger with price and high power will be more popular today.
For example, at present, the price of the atom PD1 of the Gan 30W charger of Anker is 188 yuan, but the nano PD with similar volume and 18W power is only 69 yuan; The higher power 65W PPS charger is only 139 yuan (the first price). Compared with 30 W atom PD1, the price of non Gan 65W charger is only two-thirds of Gan charger.
Therefore, the manufacturer will reduce the traditional high-power charger synchronously while developing Gan charger to the level close to Gan charger. Traditional chargers have less requirements on technology than Gan, and the cost and price of these chargers are relatively lower.
Anker used to stack the boards in nano, which was a small brick, and this time, the same method was used to integrate the main board in a compact space, and then reduce the charger volume.
But this time, the charger's power has risen from 18W last year to 65W, not only for mobile phones, but also for computers and other devices.
What is "PPS"?
Anker 65W PPS supports Anker's own power IQ 3.0, which is compatible with PD 3.0 and QC 3.0 fast charging protocols. The printed nameplate next to the charger has two sets of data, one of which is the conventional fourth gear power:
5V==3A 15W; 9V==3A 27W; 15V==3A 45W / 20V==3.25A 65W
The other group is the power of the nominal PPS, which spans 3.3-21v, which is totally different from the previous set of data:
3V-21V==3.09A 64.89W Max
What's the meaning of this?
There are various charging protocols on the market. In addition to the most common high pass QC and PD, there are private agreements with different charging modes, Huawei, oppo, vivo, Yijia
However, due to the various protocols, special chargers are needed, which will also cause environmental impact of charger manufacturing and recycling.
Therefore, USB if, as the original charging protocol, includes charging characteristics of various protocols through PPS. It can realize high voltage and low current, and reduce the charger heat by low voltage and high current.
The core of the variable current voltage is that PPS is programmable power supply.
Unlike the traditional fixed current and voltage output, the charger can dynamically adjust the output power between 3.3v-21v according to the connected equipment and charger state, and also can control the charger temperature.
For Anker 65W PPS, a compact high-power charger in its own internal space, PPS can be considered as a hidden "active heat dissipation" function.
The charger temperature is 49-51 ° C and the room temperature is 26 ° C during the 60 minute charging test of 16 inch MacBook Pro while charging.
In the 30 minute charging of iPhone 11 Pro max, the charger temperature is 35.9-36.3 ℃, and the room temperature is about 24 ℃, and the charger shell is warm, but it is not hot. Similarly, I tested ThinkPlus at the same strength, when the charger temperature was between 38.3-40.9 degrees Celsius, 3-5 degrees Celsius higher than 65W PPS. But considering that the space of 65W PPS is smaller, it can be concluded that PPS can play a role of temperature control for charger.
Protocol compatibility and power
The instrument used in this test is yzx zy1280 purple gold meter. First, check the fast charging protocol supported by charger:
Anker 65W PPS supports pd2.0 / 3.0, PPS 3.3-21v, and is compatible with qc3.0 / 4 protocols. It supports the current mainstream fast charging protocol. Next, see the charging situation of each equipment.
Connect usb-c cable to lightning to charge iPhone se, shake hands with PD and charge quickly. The output power is up to 8.8v/1.4a 12.68w, which is close to the maximum 15W power supported by the machine.