All you want to know about car wireless charging (front + rear) is here
As an excellent
wireless charging
application scenario, car wireless charging does not need to plug in and out the charging cable frequently. It is a sharp tool to increase driving safety and improve the quality of life of car owners, which greatly improves the experience of using and charging mobile phones in the car.
In order to let you have a comprehensive understanding of car
wireless charging
(front + rear), what we want to bring you today is related detailed interpretation and market analysis.
1、 Car
wireless charging
mode: front loading and rear loading
At present, car wireless charging is divided into two ways: front loading and rear loading. Generally speaking, front loading means that the car is equipped with
wireless charging
device before leaving the factory, which is generally located in the central storage box and armrest box. The mobile phone can be charged by putting it on the charging device. The rear mounting is to install an additional device such as a car bracket on the car to realize
wireless charging
. The installation position is not fixed. It can be installed in the air conditioning vent, car center console and other positions, or adsorbed on the windshield with the help of suction cup.
Wireless charging technology for automobile front loading comes from
wireless charging
solutions provided by wireless charging solution providers to automobile main engine manufacturers. As a qualified car front mounted
wireless charger,
wireless charger
certification is only the foundation, but also needs to meet the strict vehicle specification level hardware standards, and has certain level requirements for working temperature range, waterproof and dustproof.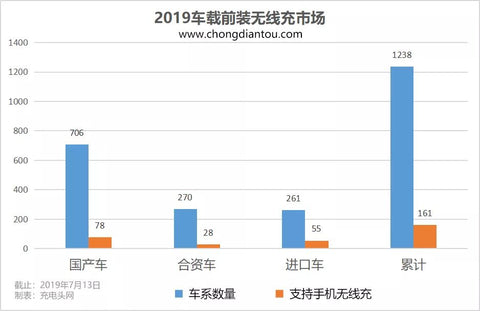 This includes a series of strict requirements such as E-MARK certification, factory system iatf16949 and EMC certification in the motor vehicle industry, which are often strict in standards, high in cost and long in cycle. As a result, there are not many wireless charging manufacturers in the front loading market, because they can not meet the qualification.
As for the on-board rear mounted
wireless charger
, because it is not a part of the whole vehicle and is not subject to the mandatory certification standards of many vehicle manufacturers, the reliability of the product is not as good as that of the front mounted, but it is better than that of the industry with low entry threshold and high cost performance.
1. Summary of the latest car models with front mounted
wireless charger
in 2019: 161 car lines
At the end of 2012, Toyota announced that the 2013 Avalon became the world's first car with Qi protocol wireless charging function. After Apple's Siri technology was introduced into the car,
wireless charging
technology was also introduced into the car.
According to the data of auto home (as of July 13, 2019), there are 1238 car lines in the domestic market, among which 161 car lines support mobile phone wireless charging, accounting for about 13%. What needs to be explained is that each of these car lines includes several to more than a dozen models. For example, 8 models of Audi A8, 13 models of Mercedes Benz S-class and 24 models of BMW 7-series support mobile wireless charging. As a result, there are thousands of models on the market that support mobile
wireless charging.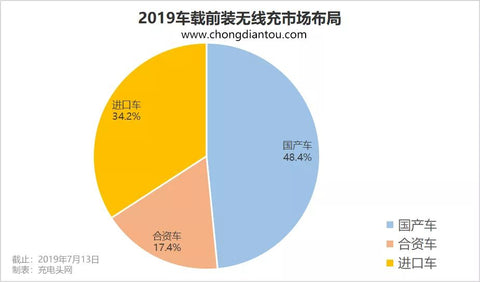 Let's analyze the data. Among the 1238 car lines on the market, there are 706 domestic cars, 78 of which support mobile phone
wireless charging
; 270 joint venture cars, 28 of which support mobile phone
wireless charging
; 261 imported cars, 55 of which support mobile phone
wireless charging.
Let's look at the 161 car lines that support wireless charging of mobile phones. Among them, domestic cars account for 48%, 78, accounting for nearly half of the total; joint venture cars account for 17%, 28; and imported cars account for 34%, 55.
2. Car afterloading
wireless charging
market
The first type of rear mounted car wireless charging is a special car
wireless charging
, which is customized by a third-party manufacturer for a specific model. The original car data is opened and the embedded fusion design is implemented. In fact, it's back loading, but it's similar to front loading visually.
The second type of rear mounted vehicle
wireless charging
is the vehicle
wireless charging
bracket, which is more common. There are four types of on-board
wireless charging
bracket in the market: infrared sensor bracket, gravity bracket, magnetic vehicle bracket, voice vehicle bracket, etc.
Among them, the infrared induction bracket needs motors and infrared sensors, the gravity bracket uses pure physical mechanical structure, the magnetic vehicle bracket keeps connected through magnetic suction, and the voice vehicle bracket can be used with app, with voice assistant and other functions.
2、 Market performance of Qi certified vehicle
wireless charger
According to the data of strategy analytics, the global shipment volume of Qi certified vehicle wireless charger Market in 2018 exceeded 12 million units, with a year-on-year growth of 101%. This includes pre installed chargers (i.e. front mounted wireless chargers) and automotive aftermarket chargers specially designed for vehicle use (i.e. rear mounted
wireless chargers
).
With regard to wireless charging in front of vehicles, the automotive industry has basically taken Qi as the standard for in car charging of smart phones. The WPC global consumer survey in April 2018 showed that 45% of consumers want to use wireless charging in their cars, compared with 32% in China. (* WPC 2018 Global Consumer Study with Toluna Research – April 2018)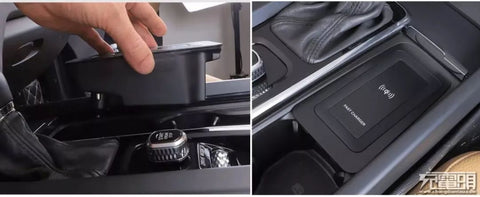 WPC also said that new products launched by manufacturers of front mounted wireless chargers are choosing EPP certification one after another. WPC data shows that the new on-board
wireless chargers
with Qi certification after March 31, 2019 are all EPP categories.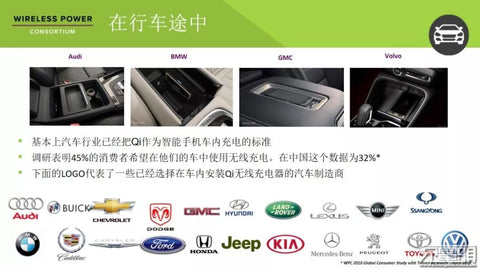 Here is a brief introduction. According to the power size, there are two kinds of Qi certification: one is BPP, 5W and below; the other is EPP, 5W to 15W. Higher power EPP certification can undoubtedly bring better wireless charging experience.