A commuting business trip EDC good thing, Zimi 50W dual-mode charger to share
When you're on a business trip or commuting, you must have some EDC equipment in your backpack. Recently, when I go out, the most I bring are mobile phones, airpods, power bank, data cable and fast charging head. In order to reduce the number of charging heads, I replaced the fast charging head that supports multiple interfaces, but it still has some weight. I was wondering if I could find a way to reduce some things. But mobile phones and earphones are indispensable, so we can only find a way in the power bank and charging head, that is, to meet my multi device charging needs, and also to meet my requirements for charging power. So it quickly locked in the Zimi dual-mode 50W mobile charging package, which innovatively combines the mobile power supply and charging head together, so that when going out, it reduces the burden of multiple charging heads.
How about the expressiveness of this product? Let's have a look at this article to share!
Unpacking & Design:
The front of the box is printed with relevant product information and a 1:1 product thumbnail.
All I bought is a set version of Zimi dual-mode CHARGER + power bank (50W), with a C-to-C charging cable inside.
The design of the product is more close to the shape of a charger, relatively square. Using the bright and frosted splicing shell design, carefully touch the splicing, seamless, without a little bit of dislocation, visible workmanship control ability.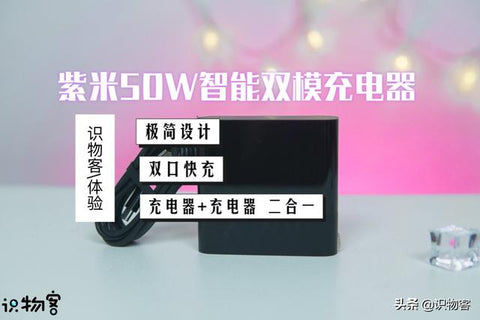 However, the bright part that occupies the main area will be more likely to be stained with fingerprints and scratched, which is probably the price for beauty.
You can see a button with CD pattern on the front. It will feel more comfortable in daily use.
The frosted part at the bottom is printed with 50W and 6700mah on the bright surface of AB respectively, showing off the ability of "charging while charging".
There is a usb-a and a usb-c interface at the top, and four equidistant LED indicators at the bottom to display the charging status and remaining power.
The length, width and height of Zimi dual-mode 50W charger are 77.5mm * 73.3mm * 31.6mm, and the foldable pin is adopted, which makes it more convenient to carry out daily.
On the whole, the product design of Zimi dual-mode 50W charger is standard. As an accessory product, it has few grooves except the bright surface material which is easy to be dirty and scratched.
Practical experience:
The biggest highlight of Zimi dual-mode 50W charger is CHARGER + power bank dual-mode.
As a power bank, it has a capacity of 6700 MAH, which can fully meet the demand of 1-2 times of mobile phone charging during daily travel and emergency. When used as a power bank, both ports can output 18W power at most. When working at the same time, the power decreases slightly, but it also has 12W level. As a power bank, this power can meet my actual needs.
As a travel charger, the wide voltage range of 100-240 can adapt to the voltage range of most regions, so that even if you travel abroad, you don't have to worry about the voltage mismatch.
However, I don't understand one point for the time being. In fact, as a power supply, the C port of Zimi dual-mode 50W charger can only output 45W working voltage at the highest. The 50W result is that when two ports work at the same time, the C port can reach 45W at the highest and the a port can reach 5W at the highest. As for this addition rule, it depends on your understanding.
Daily use of 45W output power, general thin book is no problem, such as millet notebook air, or 13 inch MacBook Pro. So you don't have to bring any big, stupid laptop chargers.
The maximum output of port a is 27W. It can output specifications of 5V / 3a, 9A / 2a, 12V / 2.25A, 20V / 1.35a. For example, Xiaomi 10 or Xiaomi 10 Pro can directly achieve the maximum power output.
Not only high power output, Zimi dual-mode 50W charger can also charge some small devices, such as Bluetooth headset, Xiaomi bracelet, apple watch, etc. its built-in cell can automatically adjust the voltage, so you don't have to worry about excessive voltage, which will damage the device. Of course, we believe in the quality of purple rice to a certain extent. It has built-in multiple safety protection, such as overvoltage, input / output overcurrent, short circuit, over temperature protection, etc., to ensure the safety of use to the greatest extent.
Conclusion:
As a two in one device, it can really lighten your backpack. When you go out everyday, you can replenish the power for your mobile phone and other devices in time, and also take care of the power supply problem when you go out to work;
High power output also ensures the supply speed;
The dual port design of 1a1c can meet the needs of multiple devices and reduce the need to bring more charging heads.
In short, in my opinion, a very good commuting, business trip EDC equipment.