65W fast charging is not as beautiful as expected. How to choose the charging head of mobile phone?
Hello, I am calling. I don't know when to start, mobile phone charging has become one of the important selling points. All the families are constantly competing at a speed of 40W, 50W and 65W. For many reasons, we may not use our original charging head anytime and anywhere, for example, we may need to borrow others, Some small partners will buy a second charging head for their mobile phone, so can they get the same fast charging speed as the original charging head? If you can't reach it, it can be much worse? Let's talk about the charging of mobile phones in detail today, so let's start.
Test equipment
The mobile phones I can participate in are millet 10pro, Huawei p40pro and iphone11 Pro max, which support 50W, 40W and 18W fast charging respectively. But millet is the original 65W charging head.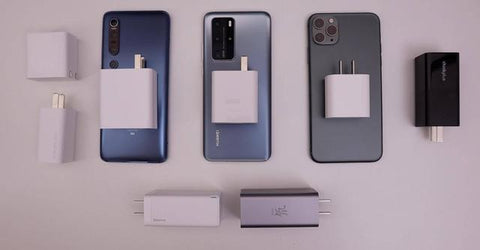 The original head of each family is not much said, but I believe that many people will buy some other charging heads, such as one at home, one for unit, etc. when going out, the volume problem should be considered. We often take more than one equipment to charge when we go out, so I also add this, the two port charging head of millet, 30W, one C port and one a port.
Some other small partners may also bring laptops when they go out. In view of the power supply design of ordinary light and thin notebooks, this 65 w charging head is born, which can be used for both notebook and mobile phone. So I bought the Gan charging head of Xiaomi and the associated lipstick power supply, which are 65W single C port. As for what gallium nitride is, in fact, a new material is used. We don't have to tangle, and we can treat it as a name.
Of course, there will be many people who want to only take one charging head and charge multiple devices at the same time. So I bought the more hot Gan nitride and Nubia gallium nitride charging head, which are 65W, 2 C ports and one a port, of which only C1 port can support 65W, which can be used to charge notebook. The other two ports can only be about 30W. Of course, three of them can be filled together, The total power is less than 65W.
Compare the size of these charging heads, the original head, is really according to the level, the larger the power of the volume is also larger.
The two port charging head of Xiaomi is about the size of Huawei original, but the plug can be folded.
The Gan charging head of millet is really much smaller, and the plug can not be folded.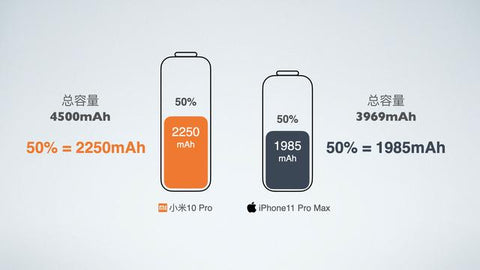 Lenovo lipstick power supply, Beisi three port charging head, Nubia three charging heads are about the same volume, Nubia is a little larger, but the Lenovo lipstick power plug can not fold.
I don't know how we usually choose to go out?
only one single port charging head
with a multi port charging head
more single port charging head
I can leave a message and tell me
As for charging line, according to the different charging head, a to C or a to lightning is used for port a charging head, and C to C or C to L is used for port C charging head, which are all original lines. When you pay attention to the line, you should try to buy 5A line.
test method
I know that when you buy a charging head, you will definitely see various protocols, because different manufacturers support different protocols, some protocols are encrypted, which makes you very troubled. Today, I will not talk about these mess, we use the most direct indicators, the actual test can be charged how much electricity.
As for the test method, for simplicity, I only use one indicator, that is, the average charging power of 30 minutes. I will explain why I should use this index and calculation method for you. (if you don't want to listen to me, you can go to the bottom of the article and see the comparison results directly.)
First of all, you should know that, for example, the so-called 50W fast charging represents a peak value of 50W, but it can always be maintained at 50W. It is totally different from that of occasionally reaching 50W. For example, you can reach 50W in only 5 seconds and 20W for the rest of the time. That is meaningless. Moreover, the current electricity quantity is different, and the charging speed is certainly different. Generally speaking, when the power is low, the efficiency is high, and charging from 0 to 50% is definitely much faster than charging from 50% to 100%.
Considering that people usually need to charge quickly when the mobile phone is fast off, for example, the last 90% charging to 100% trickle charging is not significant. And also consider that the charging speed should be able to maintain for a relatively long time. So starting from 0, half an hour, it should be a reasonable way.
But there are new problems. The battery capacity of each cell phone is different, and we usually care more about how long it can be used. So I think the actual capacity should be more important, and the percentage is just a reference.
So, after I have tested, I will get the real charge amount with the actual total battery capacity x%, but the number is too large, such as 2250mah, and it seems to be a little less intuitive. It is not clear whether the number is high or low, after all, we usually see how much W is charged.
So I've got to calculate how much w the average charging speed can charge so much electricity.
Assuming that 5000mAh can be charged in an hour, the voltage of the mobile phone is usually 3.7V,
So 5000mahx3.7v=5ahx3.7v=18.5wh.
But this 18.5wh is the power that the mobile phone gets. The output of the mobile phone charging head is not so much. The mobile phone manufacturer usually says the output. The working voltage of the mobile phone is 3.7V, and the charging head is usually output according to 5V, and of course, the current is lower at 9V, which is the same. So 18.5wh needs to be divided by 3.7 and multiplied by 5, which is the actual output of the charge head, that is, 25wh. 25wh can be output in an hour, so the power of the charging head is 25W. If the speed is doubled, then 25wh can be output in half an hour, then the power of the charging head is 50W.
You find this number interesting, 5000mAh, 50W. If you don't understand it, it doesn't matter, just know that if you can charge 5000mAh in half an hour, it means that the average charging power is 50W. If you can charge 3500mah, the average charging power is 35W, which means that.
So, in order not to be too complicated, I only have this indicator in my comparison data today, that is, the average power of 30 minutes of charging.
test data
The test method is introduced to you. I will list the data table directly below.
First, the charging speed of each home using original charging head.
Millet 10pro 37W,
Huawei p40pro 32W,
iPhohe11Pro Max 18W。
Apple can keep it at 18W because of its relatively low charging power, which is less than 50%, while Xiaomi and Huawei have both charged higher power. Therefore, the highest power will not be maintained in the later period, so the average power can only reach 37W and 32W.
Let's look at what speed is it if you use all the 65W original charging heads in Millet?
Millet 10pro 37W,
Huawei p40pro 13W,
iPhone11Pro Max 6W。
So the original charging head of Xiaomi, although 65W, is really not friendly to other manufacturers' mobile phones.
What if we use Huawei's 40W original charging head?
Millet 10pro 9W,
The iPhone 11pro Max is only 6W,
It seems that Huawei's charging head is also very unfriendly to other brands of mobile phones.
If you use Apple's 18W original charging head, because this is relatively low speed, or look at it.
Millet 10pro 18W,
Huawei p40pro 13W,
Millet can run 18W, while Huawei can only reach 13W.
Next, we use the 30 W double port charging head C data of Xiaomi,
Millet 10pro 25W,
Huawei p40pro can only reach 13W,
The iPhone 11 Pro Max has reached 21W, faster than the original charging head.
Use the data of port a of small meter 30W double port charging head,
The millet 10pro can only reach 16W,
Huawei p40pro is still 13W,
The iPhone 11 Pro Max is 12W,
The performance was poor.
Next, it's the turn of a bunch of 65W charging heads.