45W super fast charging, Zimi 1a1c car charger 45W fast charging version launched (AP721)
Today's intelligent devices have been everywhere in people's lives. For users with cars, car charger has become an essential product.
Car charger
can charge mobile phones or car products, so that they can avoid the embarrassing situation of mobile phones and other intelligent products without electricity on the way of driving. Just recently, zMi Zimi launched a 45W USB PD fast charging
car charger
, which adopts 1a1c dual port configuration and supports two independent output interfaces. Let's take a look with Xiaobian.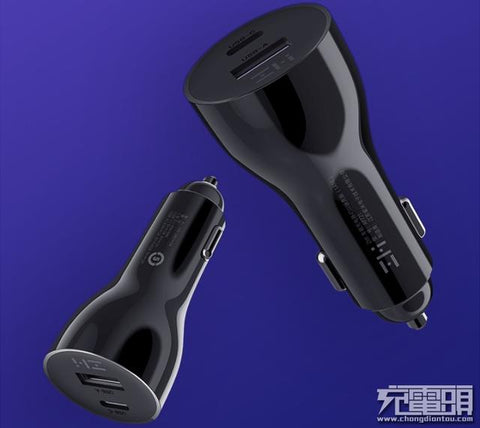 The 45W fast charging version of Zimi's
car charger
is round and compact. The charger has a usb-a interface and a usb-c interface. Both interfaces support simultaneous output, and the maximum power is 45W.
The charger has built-in intelligent identification chip, which can automatically adapt to different devices for charging and output appropriate power effectively. It is compatible with charging devices of apple, Xiaomi, Huawei and other brands.
Zimi ap721
car charger
body adopts flame retardant PC material, integrated injection molding process, metal elastic contact design on both sides of the body, which effectively reduces the vibration of the vehicle in driving, makes the contact more stable and the charging more stable.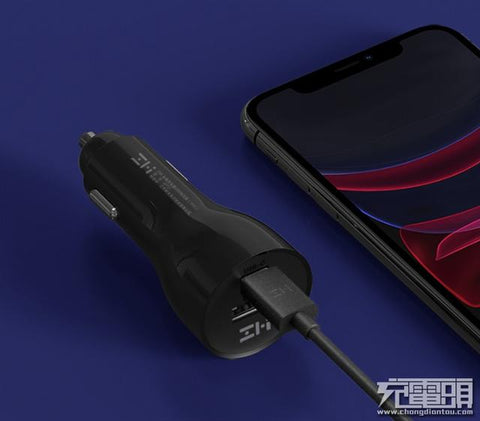 Usb-c supports Apple's 18W fast charging, with PD fast charging cable, which can charge 50% of the power for the device supporting Apple's fast charging function in 30 minutes, reaching the standard of Apple's charging 50% in 30 minutes.
In addition to supporting Apple's 18W fast charging, it also supports Android mobile phone fast charging. Zimi's car charger is compatible with Huawei's fast charging protocol and can provide super fast charging for Huawei mobile phones.
With 1a1c configuration, it can support dual port output at the same time, charging is more stable and faster, and the maximum output power is 45W, which can meet the demand of charging two devices in the car at the same time and multi device charging of users.
A pure white logo LED indicator light is designed below the charger interface. When the indicator light is on, the light is very soft and evenly distributed, which effectively increases the atmosphere in the car.
Basic parameters Product Name: zMi
car charger
45W fast charging Version (1a1c) product model: ap721 interface type: usb-c / usb-a input parameters: 12-24 V / 5A output parameters: (usb-c) 5v3a, 9v3a (usb-a) 4.5v5a, 5v4.5a, 9v2a (dual port) 45W Max executive standard: Q / 320281dhr05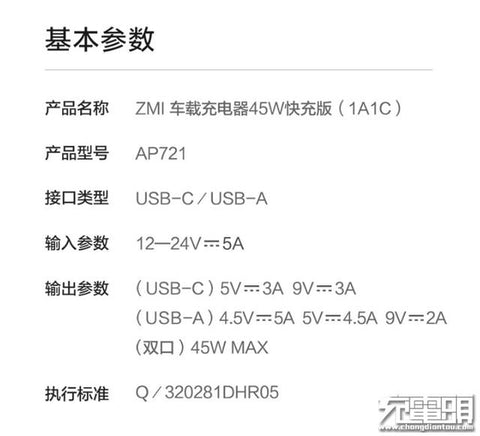 Zimi car charger 45W fast charging version is small, sleek, suitable for various models, with usb-a and usb-c output interface, can be compatible with a variety of intelligent devices charging, the maximum power is 45W, support mobile phone, tablet, notebook charging, you can pay attention to this
car charger
.